Michelle Johnson to Step Down Next Year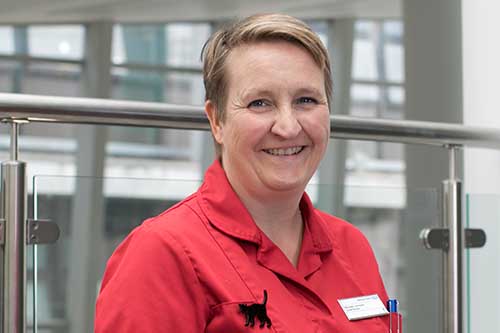 14 Dec 2021
Whittington Health's Chief Nurse and Director of Allied Health Professionals Michelle Johnson will be leaving her role next summer.

Full story
Michelle joined the trust as Chief Nurse in February 2018 and also became the Board Director for Allied Health Professionals in 2019.
Since taking on her role she has led the organisation through a successful CQC inspection, improved the retention of nurses and been a leader to our nursing and allied health professionals workforces.

She was awarded an MBE in the Queen's New Year's Honours list in 2020 for services to nursing and especially during the COVID-19 pandemic.
Michelle said: "I am incredibly proud of everything we have achieved in recent years. While the pandemic has brought challenges on a scale that we could only have imagined a couple of years ago, it has been a privilege to lead our nurses and allied health professionals through these unprecedented times."
Siobhan Harrington, Chief Executive of Whittington Health, commented: "I would like to thank Michelle, personally and on behalf of everyone at the trust, for being a truly wonderful Chief Nurse. She is not only a great role model but also a dedicated advocate for nurses, midwives, health visitors and allied health professionals, both at Whittington Health and across the north central London region. She has displayed excellent leadership over the last four years and in particular during the pandemic and I would like to thank her for everything she has done.
"I fully support her personal decision to stand down. Michelle will remain with us until the summer, working alongside medical and management colleagues to continue supporting the organisation and our staff through and beyond this winter period."
Michelle will be taking a short break after leaving Whittington Health as she considers her next role within the NHS. The process to find a new Chief Nurse will begin in the New Year.