Wood Green Health Hub Consultation launches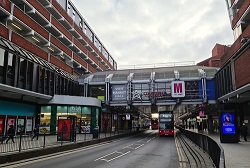 24 Feb 2022
We have launched a new consultation into the creation of a health hub in central Haringey.
Full story
North Central London Clinical Commissioning Group (NCL CCG), Whittington Health NHS Trust, North Middlesex University Hospital NHS Trust, Barnet, Enfield and Haringey Mental Health NHS Trust and Haringey Council are working together on a proposal for an integrated health and wellbeing hub in Wood Green. The proposed centre would support additional primary care in an area of significant population growth, offer the chance for integrated service delivery and represent a necessary consolidation of Whittington Health's community services in central Haringey.
We want to provide high quality, modern and appropriate environments that support our vision to help local people live longer and healthier lives. To make improvements we will need to make some changes and we would like to hear from you about the proposed moves.
We currently provide services out of many locations across the borough. We have been working with Haringey Council as well as other local partners to think about where you access health services. We want to make this access simpler and more joined up for our patients and service users and we will achieve this by listening to you and working in partnership with the Council and voluntary sector.
In these proposals the only change is the location – the number of appointments, the clinicians that you see, and level of service will remain the same. We are also proposing to offer some new services in the community, including a group space and digital booths that allow people to access their healthcare appointments online.