COVID-19 mask update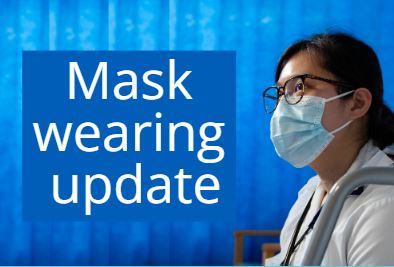 01 Sep 2022
We have made changes to our mask wearing policy in our hospital and health centres
Full story
From Wednesday 31 August, patients, visitors and staff no longer need to wear a mask in non-clinical areas of our sites. Masks are still required in clinical areas unless you are exempt from wearing one.
If you have COVID-19 symptoms, please contact us by phone before your appointment. If you are a visitor, please do not come if you have COVID-19 symptoms.
Thank you for helping to keep yourself, our colleagues and other patients safe.
Where do I need to wear a mask?
In our hospital
Please wear a mask at reception, in waiting rooms, in outpatient departments (anywhere you have an appointment within the hospital, but when you do not need to stay overnight) and on our wards. If you are being supported by a porter in our corridors, you may be asked to wear a mask.
At our health centres
Please wear a mask at reception, in waiting rooms and during your appointment.
Where can I get a mask?
You can pick up a mask at all entrances to our health centres and hospital, at ward desks and at reception areas. Please ask a member of staff if you need a mask.
Can I wear a mask everywhere?
Yes, you can wear a mask throughout our sites. Masks must be worn in clinical areas, unless exempt.
Why have you made these changes?
We are making these changes in line with national guidance and after our Infection Prevention Control team reviewed them. We may change this policy if COVID-19 cases increase nationally or locally.