Plans approved for a significant improvement to our Maternity and Neonatal facilities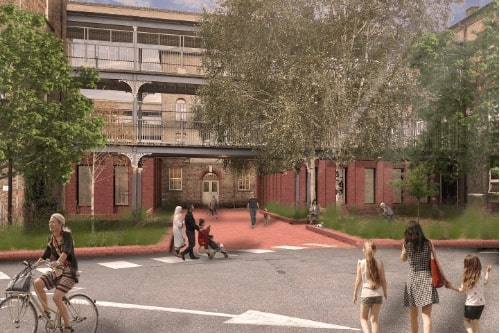 09 Nov 2022
We are delighted to announce that we have secured planning permission for a significant refurbishment to our maternity and neonatal facilities.
Full story
We are pleased to announce that our plans were approved by Islington Council for a substantial project to improve our maternity and neonatal facilities. In total, over £100 million will be spent on improvements to the Kenwood Wing of Whittington Hospital.

The Kenwood wing, situated to the west of the Magdala Avenue hospital site, houses the maternity and neonatal facilities — these facilities require a significant refurbishment to match the standard of service that Whittington Health staff provide. This opportunity will ensure the Trust has state-of-the-art facilities for families, new staff areas, and an improved spiritual care centre.

The plans have been sensitively designed in keeping with the Victorian architecture of the original building that make Whittington Hospital so special, while ensuring the inside space is updated. The investment in these areas will result in modern and welcoming facilities for families, patients, and our staff. It will result in families having access to ensuite rooms for their comfort and privacy. Two bereavement spaces will also be created, which will support the care given to families dealing with a sad loss.

With over 3,600 Whittington babies born each year, it is important to make sure their entrance to the world is as welcoming as possible for them and their families. The initial designs have been created with input from midwives, nurses, doctors, and other colleagues, as well as representatives from Maternity Voices Partnership, which includes patients. Works are set to begin on the site next year. During the project, some areas may move location within the hospital, but all services will continue to be provided throughout. The first phase of the project will see ensuite labour rooms and one of the bereavement suites delivered, with further developments made during subsequent phases.
The Whittington Health Charity will be
supporting the project
with a major fundraising appeal. The appeal aims to ensure that we can deliver a truly state-of-the-art technology and facilities, beyond what is achievable with core NHS funds alone.
Whittington Health's Chief Executive Officer Helen Brown said,
"Gaining approval of our plans is the first step on our exciting journey to improve our maternity and neonatal facilities. These improvements will bring our buildings up to a standard that matches the excellent care that our staff already provide.

"By developing these plans with our patients and their families, as well as our clinical teams, we will ensure that the new facilities meet the needs of everyone using them".

This significant project will be undertaken in phases over the coming years. Funding has already been identified for the first part of the work and we will be working with local partners and national organisations on approval for funding later stages of the project.