Whittington takes part in London Fire Brigade's biggest disaster drill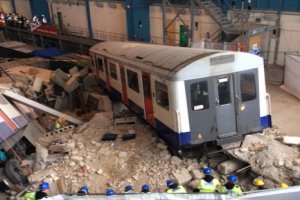 04 Mar 2016
Whittington Health has taken part in the biggest multi-agency training exercise in London Fire Brigade's history to test its ability to respond to a large-scale emergency
Full story
Whittington Health has taken part in the biggest multi-agency training exercise in London Fire Brigade's history to test its ability to respond to a large-scale emergency.
The four-day Exercise Unified Response simulated a high-rise tower block under renovation falling into Waterloo underground station to prepare emergency crews for a large-scale operation with mass casualties.
More than 70 organisations, including police, London Fire Brigade, London Ambulance Service, councils, mortuaries and the Government's Cobra committee took part in the exercise which included 100 firefighters, 15 fire engines and 1,000 actors playing casualties amid upturned tube trains and thousands of tons of rubble.
Speaking about the experience, Lee Smith, Whittington Health's Emergency Planning Officer, said: "Taking part in the drill was an eye-opening experience. The main disaster site was a scene of utter chaos and really illustrated just how complex and challenging responding to a large-scale emergency can be.
"We were honoured to be included in the exercise – the drill certainly gave us food for thought and we have learnt some important lessons from our colleagues in the emergency services. Exercises of this magnitude provide valuable insight and versatility on how to respond to life-changing disasters, and I am confident that our team at Whittington Health will be well-equipped to respond to such an emergency in the future."
The £770,000 drill was funded by European Union money and there were also officers from Interpol and police from EU countries including France and Germany.
For further information please contact
communications.whitthealth@nhs.net
or 020 7288 3131.
About Whittington Health
Whittington Health is an integrated care trust, delivering acute and community services to over 500,000 people across Islington and Haringey, Camden, Enfield, Barnet and Hackney
In 2014/15 we had 789,350 contacts with patients in the community and over 92,000 people visited our emergency department
We have an annual turnover of £295 million and employ over 4,400 staff