Education award success for Whittington Health Doctor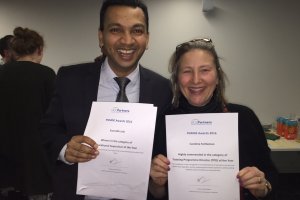 22 Mar 2016
Dr Caroline Fertleman, has been highly commended at the UCLPartners Postgraduate Medical and Dental Education (PGMDE) awards
Full story
One of Whittington Health's leading consultant paediatricians, Dr Caroline Fertleman, has been highly commended at the UCLPartners Postgraduate Medical and Dental Education (PGMDE) awards.
Dr Fertleman was highly commended for her work as a Training Programme Director in the first annual awards ceremony, which recognises outstanding commitment to education and training by healthcare professionals.
Caroline was praised by the judges for her outstanding work in developing education and training programmes, particularly in connection with her work in co-authoring 'the Hands-on Guide to Practical Paediatrics' and her dedication to improve knowledge and awareness of child safeguarding across London.
Speaking about her award success, Dr Caroline Fertleman said: "Education and training is a huge part of any doctor's career and it is wonderful to be recognised for helping to train the next generation of clinicians. Working with young patients can be particularly daunting for new doctors and I hope that by sharing our training programme will give them the knowledge and confidence to deliver the best possible care."
Dr Saurabh Jain, a consultant ophthalmic surgeon working with Whittington Health and the Royal Free, also enjoyed success at the awards and was named Educational Supervisor of the Year, for his work in supporting trainees in their careers.