First 'twiddlemuff' knitting club helps patients with dementia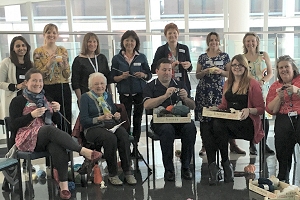 08 Apr 2016
Accomplished and novice knitters from across Whittington Health have come together to join its very first knitting club to support people living with dementia.
Full story
Staff and volunteers put their knitting and sewing skills to the test by creating 'twiddlemuffs' specially designed to help patients with dementia.
Twiddlemuffs are cosy, knitted tubes of wool into which patients can rest their hands on their laps. Attached to the inside and outside of the muff are buttons, ribbons, bells, enticing glittery pompoms – all to engage patients and encourage them to twiddle with the items. The Twiddlemuffs are proving very popular with our patients with dementia, who often have agitated hands and are in need of some gentle, reassuring distraction.
The knitting club was organised by one of our leading consultant paediatricians, Dr Caroline Fertleman, she explains: "They might sound bizarre but twiddlemuffs are a great way to combat the restlessness and agitation that people with dementia can experience. It is wonderful to see so many budding knitters getting together to do their bit to help make the time our dementia patients spend in hospital that little bit easier.
"We hope to continue knitting up a storm, keeping up a constant supply of muffs so each patient can have their own muff which they can keep to take home with them at the end of their stay."
For further information please contact communications.whitthealth@nhs.net or 020 7288 3131.