Help pupils uncover the history of the Whittington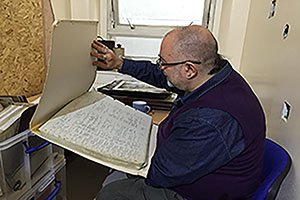 05 May 2016
Pictured: Local historian David Rosenburg discovering some historical gems
Full story
Patients, staff and volunteers are being sought to share their memories of the Whittington Hospital in the 40s, 50s, 60s and 70s.

Scarabeus Theatre, a local theatre company based in Archway, is working with pupils from Grafton Primary School to uncover the history of the Whittington thanks to a special £9,900 grant from the Heritage Lottery Fund.
The team are looking to record the experiences of staff who may have worked at the Whittington, or patients who may have been treated at the hospital to help build up a picture of its role in the community throughout the ages.
The stories shared with pupils from the school will then be turned into a theatrical performance to showcase the history of the hospital through the years.
Clare Furey, Development Manager at Scarabeus Theatre, explains: "We're really excited to be working with Whittington Health to help bring its history to life. We are looking to speak to anyone who perhaps worked or was treated at the Whittington Hospital during the 50s, 60s, or even the 40s.
"Your accounts will not only help local children, many of whom were actually born at the Whittington Hospital, to put together a special play to pay tribute to such a big part of the community."
Steve Hitchins, Chairman of Whittington Health, added: "Our hospital has an incredibly rich history and it is great to be working with Scarabeus Theatre to help bring it to life. We're looking forward to seeing what the pupils put together and sharing our heritage with the local community."
For more information and to get involved, please contact Clare Furey on 020 3620 2325 or email

clare@scarabeus.co.uk

.