Award success for Whittington Health community care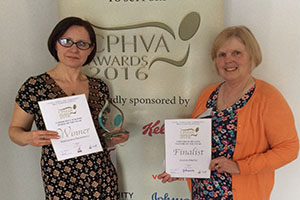 06 May 2016
Pictured: Aleksandra Dackiewicz and Audrey Martin
Full story
Aleksandra Dackiewicz and Audrey Martin, community team members at Whittington Health, have been recognised at the annual Community Practitioners and Health Visitors Awards, which celebrates the work of teams and individuals providing out of hospital care.
Aleksandra Dackiewicz, a community nursery nurse working at The Laurels Healthy Living Centre, was named Community Nursery Nurse of the Year for her outstanding work in supporting families across Haringey. The judges were particularly impressed with

Aleksandra

's work to set up local groups in children's centres across the borough.
Tenby Dzingai, Health Visiting Manager for Whittington Health in Haringey, who nominated Aleksandra for the award, said: "

Aleksandra

has been working in her team for over eight years. She is dedicated, committed, courageous and is always so full of life."
"She is always asking if there is more that she could do. She is always up for a challenge and also translates and works with most of the Polish families. It is great to see her be recognised so publicly."
Speaking of her win, Aleksandra, said: "It feels amazing to win. I did not expect any of this because I have never won anything in my life.
"Today is not about winning, it's about being part of it. We're all winners here so big credit to all the nursery nurses.
"Now is a challenging time for everyone in health visiting but enjoying every moment of this. Try to access every form of training that you can.
"Being a nursery nurse is a challenge and a mission itself. Be what you are and enjoy every day. It's important because you can make a change in everybody's life."
Audrey Martin, who has been working as a Health Visitor for the past 16 years – most recently in Haringey – was also shortlisted in the category of Universal Health Visitor of the Year. As well as supporting families in Haringey Audrey has also trained as a community practice teacher and is helping to train and support the next generation of health visitors.