Rotary Club deliver boost to children's emergency department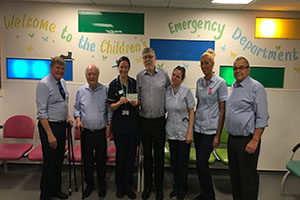 06 May 2016
Pictured: members of the local club with our emergency department staff
Full story
Young patients visiting the emergency department (ED) at Whittington Health will have their trip made a little brighter thanks to a £1750 donation from the Rotary Club of Islington, Highgate and Muswell Hill.
Members of the local club, including President, Cos Pratsides, visited the specialist ED to present the team with a cheque and to see the ward in action.
The funds are a welcome boost and will go towards distraction toys and books to help make a visit to our emergency room easier for our young patients.
Graham Brodgen, Head of Fundraising at Whittington Health, said: "We're incredibly grateful to our local rotary club for their on-going support. The funds raised will help our children's emergency team to buy some much needed toys, books and games that will help to keep young patients calm and relaxed at what can be a scary time."
If your social club, workplace or group of family and friends are interested in supporting a department, service or ward that is special to you then please email Graham at graham.brogden@nhs.net or call on 020 7288 3402 to discuss your ideas.