Whittington Health honours nursing and midwifery teams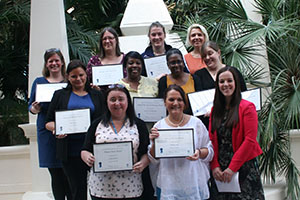 25 May 2016
Pictured: Our Nursing and Midwifery Excellence Award winners
Full story
Nurses, midwives, health care assistants from across Whittington Health to celebrate its annual Nursing and Midwifery Excellence Awards.

Held on International Nurses Day, as part of our annual nursing and midwifery conference, the awards are a celebration of the dedication, compassion and commitment of our teams to deliver excellent patient care.
Nine awards were given out in recognition of the work of our nurses, midwives, healthcare assistants as well as those taking the early steps in their career in nursing or midwifery.
The winners are:
• Healthcare Assistant of the Year, Marion Coyle
• Student Nurse of the Year, Orla Hillary
• Student Midwife of the Year, Ilana Pizer Mason
• Patient Choice Award, Linda Greaves
• Director of Nursing Award, Kelly Collins
• Nurse of the Year, Anna Sweeney
• Midwife of the Year, Jane Laking
• Team of the Year (Acute), Emergency Department Nursing Team
• Team of the Year (Community), Nurses from Life Force Team
Director of Nursing and Patient Experience at Whittington Health, Philippa Davis, was there on the day to present the lucky winners with their awards, and to pay tribute to the work of our nursing and midwifery teams. She said: "As we all know, the nursing profession delivers outstanding care to patients, their families and the community all year long. These awards are my way of personally paying tribute to those nurses and midwives who are at the forefront of not only delivering the best care, but also helping to transform services to improve the lives of our patients.

"It was a real honour to have been part of the judging panel for these awards, and hearing about not only the big changes our teams are making, but also about the small acts of kindness that make a huge difference to our patients. I am incredibly proud to be leading such a talented and dedicated team of nurses and midwives."