Whittington Health teams up with Toy Project for special appeal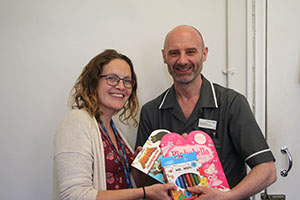 02 Jun 2016
We're looking for kind hearted souls to donate any unwanted and unused toys to children
Full story
Whittington Health has joined forces with the Toy Project to launch a special appeal to help support vulnerable children across the community.
We are looking for kind hearted souls to donate any unwanted and unused toys to children in local hospices and in hospital, including our children's ward, Ifor.
Graham Brodgen, Head of Fundraising at Whittington Health, said: "If you're having a spring clean this half term and come across any unwanted or unused toys, you can help give them a new loving home by donating them to the Toy Project.
"Donated toys will be given to vulnerable young people who might be staying with us in hospital, being treated at one of our community sites, or even in local hospice care. So if you have any DVDs, baby toys, matchbox cars or unwanted gifts we'd love to hear from you. Donated toys will help to make a big difference to our young patients, helping to keep them calm and relaxed during what can be a scary time."
The Toy Project team will be in the main atrium of the hospital on Monday 20 June (11am-3pm) to receive any unwanted toys.
For more information or to arrange to donate your toys separately, please contact graham.brogden@nhs.net.