Whittington Health opens new adolescent bay in hospital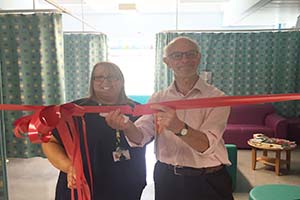 10 Jun 2016
Pictured: Majella Travers, Matron for Acute Paediatrics and Dr Sebastian Kramer, retired Psychiatrist
Full story
Staff, patients and their families from across Whittington Health have come together for the opening of a new, specially designed adolescent bay, on the hospital's children's ward.

Dr Sebastian Kramer, a retired psychiatrist who worked with young patients on the ward for over many years, officially declared the new bay open, following a £5,000 redevelopment.
The new bay, provides a dedicated area for young patients between the ages of 12 and 17 to stay when they are in hospital.
Speaking about the opening, Majella Travers, Matron for Acute Paediatrics at Whittington Health, said: "Our new bay is a big step forward in helping our young patients to feel at ease when in hospital.
"Being in hospital at any age can be difficult but as a young person it can be particularly unsettling – that's why our new bay will make such a difference. Children of all ages can be admitted to our ward and this new bay means that when adolescent patients come to stay with us, they have their own area away from younger children where they can relax in our new chill out space and enjoy books, music and games that are suited to their age group.
"We wanted to make sure our new bay was right for our young patients and we worked with them to design it, and I am so pleased to see their plans come to life."
The redevelopment of the adolescent bay was paid for thanks to a £5,000 donation from The Whittington Hospital Charitable Fund and generous donations of books, toys and games from St Aloysius College in Highgate.
Whittington Health's children's ward, Ifor, has 23 beds and looks after around 2,000 children a year who have a range of medical and surgical conditions.