Whittington Health cancer services shortlisted for patient safety award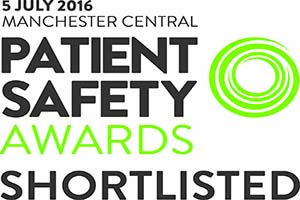 15 Jun 2016
The team have been shortlisted for their work in helping to improve the safety and care of patients.

Full story
Whittington Heath's team of specialist cancer team have been shortlisted for a prestigious Patient Safety Award.
The team have been shortlisted in the Cancer Care category for their work in improving the safety, care and support people with cancer and their families receive when visiting the Whittington Health.
The unit have been shortlisted for their work in helping to improve the safety and care of patients, including introducing a more comprehensive assessment of their health needs, introducing a 24 hour helpline staffed by specialist nurses to provide support and advice around the clock, and numerous health and well being events to help patients cope with diagnosis, treatment and recovery.
Karen Philips, Macmillan Lead Cancer Nurse at Whittington Health, explains: "It is a real honour to be shortlisted for this award. We know that being treated for cancer can be a very difficult time, and that's why it is so important that we have the right care in place for our patients.
"We're always looking ways to improve our service and over the past few years we've been working closely with our patients to make sure they get the care and support they need. We are incredibly proud of our service and the work our team does to support people through their cancer treatment and we are incredibly pleased to have our work recognised by the Patient Safety Awards."
Alastair McLellan, Editor, HSJ and Jenni Middleton, Editor, Nursing Times:
"Congratulations to the finalists of the Patient Safety Awards 2016. This year the awards really highlight those organisations who are not only doing their day jobs, but going above and beyond every day to deliver exceptional patient care and safety. The projects submitted demonstrate those who are constantly innovating and overcoming challenges to put patients' needs first."
Now in their eighth year, the Patient Safety Awards recognise organisations that are striving to improve patient safety in healthcare. Winners will be announced on the evening of 5 July following the annual Patient Safety Congress.
The full list of finalists can be viewed online here: https://www.patientsafetycongress.co.uk/2016-shortlist