Host of stars deliver festive fun to patients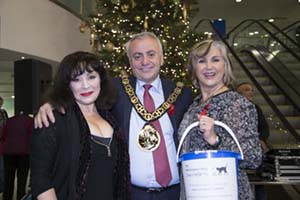 05 Dec 2016
Pictured: (L - R) Harriet Thorpe, Mayor of Haringey Cllr Ozbek and Lesley Garrett CBE
Full story
Popular stage and screen actress, Harriet Thorpe, and opera star, Lesley Garrett CBE, brought a touch of seasonal sparkle to Whittington Health, as they kicked off the Trust's festive celebrations at a special ceremony to switch on their Christmas tree lights.
Harriet, who is well known for playing Fleur in the BBC sitcom Absolutely Fabulous, and soprano singer, Lesley, were joined by Ali Gul Ozbek, Mayor of Haringey, and Steve Hitchins, Chairman of Whittington Health as well as a host of patients and staff to mark the festive occasion.
Speaking about the switch on, Harriet said: "It is a real honour to be helping to kick off the Christmas celebrations at Whittington Health. The hospital has a special place in mine and my sister's hearts after both our parents were so well looked after here earlier in the year. The tree looks fantastic and I hope that it helps to bring a little bit of Christmas cheer to patients and their families when they visit."
Opera singer, Lesley Garrett, added: "I'm so pleased to be joining Whittington Health's Christmas celebrations. The hospital is an important part of the local community and it is wonderful to be here to lead staff and patients in some classic carols around the tree."
The 25ft tree, which was sponsored by a local firm, will be displayed in the main reception of the Archway hospital site.
The Christmas light switch on marks the start the festive celebrations at Whittington Health, which will see a range of choirs, bands and groups visit the Trust to entertain patients and their families throughout the festive season.
Steve Hitchins, Chairman of Whittington Health, said: "Christmas is often seen as a special time of year, but it can be hard if you, or a loved one, are spending that time in hospital. We are delighted that so many groups have come together to bring some Christmas spirit to help us entertain patients and their families throughout the festive season.
"As well as the Christmas tree light switch on, patients and staff will be treated to performances from choirs, bands and other local groups to make sure 'tis really is the season to be jolly."
As well as groups of carol singers who will be visiting patients on the wards, Whittington Health will also play host to performances from St Joseph's School Choir, Torriano School Choir, a Corsican brass band and the North London Society of Recorder Players. For more information on performances taking place throughout December, please visit
here
.