Whittington Health launches new art competition to find local talent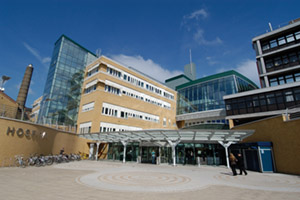 04 Apr 2017
Pictured: Whittington Health
Full story
Whittington Health is launching an exciting new art competition designed to seek out budding artists and talent from across north London.

Open to all, the competition is part of a new drive to showcase the work of the local community in the busy hospital.
Steve Hitchins, Chairman of Whittington Health, explains: "We have a long history of working closely with our local community and our new art competition is an exciting new addition. We're looking for budding artists, regardless of ability, to get involved and share their work with us."
As well as displaying submissions from the local community, Whittington Health will also be putting a special triptych mural entitled The Legend of Dick Whittington and his Cat, back on public view at the Whittington Hospital. Painted by north London resident Ray Walker, who sadly died in 1984 aged just 39, the mural captures the essence of Dick Whittington, the Archway hospital's namesake, and his journey to London.
Steve Hitchins, added: "We know that there is a huge amount of talent in our community, and we're hoping that this new competition will really inspire people to get involved – we may even discover the next Ray Walker."
Under the banner of 'my favourite activity', entries to the art competition are split into five categories; under 5s, 5-7 years, 8-11 years, 12-16 years and over 17s.
As well as having their artwork displayed in the Whittington Hospital, winners of the competition will also win a range of top prizes including, VIP visits to Arsenal and Tottenham Hotspur FC, free cinema tickets, art equipment and classes.
To enter the art competition or to find out more, please click
here
. The competition closes on 31 July 2017.