Whittington Health launches new Easter Appeal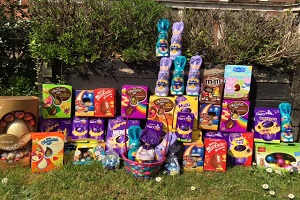 07 Apr 2017
Pictured: Donations received so far
Full story
Whittington Health is launching a new Easter Appeal supporting our children's and older people's wards.

We are looking for kind hearted souls to donate an Easter Egg or other Easter goodies to our young and older patients who will be staying in hospital at Easter time.
Sarah Otley, Play Service Lead at Whittington Health explains, "Being in hospital at any age can be difficult but it can be particularly hard when you're a young patient.
"By donating an Easter egg, you'll be helping to spread a little Easter sparkle and help make our young patients stay in hospital that little bit brighter."
Anyone wishing to make a donation can do so by dropping them off at the main hospital reception in Magdala Avenue or the Volunteers Office next to the reception desk during office hours.
Eggs will be given out over Easter on our children's and older people's wards.