Getting to foundation trust status
Our Foundation Trust film

What does Whittington Health have to do to become a foundation trust?

Whittington Hospital NHS Trust (as the trading organisation) has to apply for a licence to operate as a foundation trust. To fulfil the criteria to apply, we have to prepare a five-year plan about how we are going to improve and grow our services for our local communities and beyond.

We need to put a strong case forward showing that:


Our services are of a high quality and make a difference to people who use them

Our risk of failures are low

Our finances are in good order

We have the right numbers of staff with the correct skills to deliver the services we provide now and want to provide in the future

We can attract a strong and meaningful membership - to show how we plan to involve those who want to make significant contributions to how we manage our foundation trust.

Another condition of our application is that we need to consult widely with patients, service users, the public, our staff, local authorities, partnership organisations and our wider communities. This ensures that local people get an opportunity to comment on our plans in becoming a foundation trust and feedback on how we plan to operate and deliver our services.

We consulted in our catchment area between 1 November 2011 to 29 February 2012.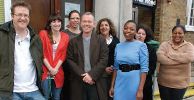 Why did we want to consult you on these foundation trust plans?

We wanted the opinions, concerns, feedback and interest from the communities we serve so that we can get the strategy and direction of our organisation right, thanks to your local voice.

The foundation trust plans are not set in stone and they will be shaped again from the results of this consultation round.