Simulation Centre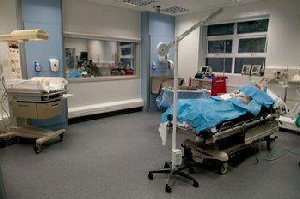 Improving patient safety and quality of care through innovative clinical education
Contact
020 7288 3517
Please contact us for more information about the Simulation Centre and future courses.
'State of the art' facility
This state of the art education facility opened in December 2009 and blends innovative education with the highest possible technological advances in clinical simulation. The centre provides surgeons, doctors, nurses and midwives the opportunity to practice difficult or risky procedures on 'living and breathing' mannequins before trying them out on real patients.
A combination of realistic mannequins, 3D computer graphics and video feedback enables teams of healthcare professionals to work through emergencies together learning by making mistakes safely.
"The mannequins respond to you as a real patient would talk, breath and move - it's quite stressful as it's just like real emergencies."
Helping to improve the safety of patient care
The clinical simulators can simulate intensive care, operating theatre, emergency trauma rooms, labour ward, paediatrics and the neonatal intensive care units. Using clinical simulators enhances team dynamics and interprofessional working, and ultimately increases patient safety.
"This is a significant facility for the Whittington hospital, its staff and for the quality and safety of patient care."