Animal Assisted Therapy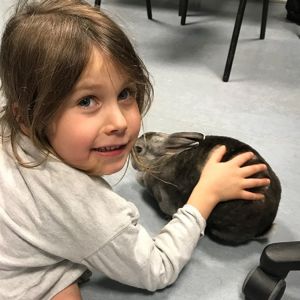 Increasing evidence has shown contact with animals to have positive both physical and emotional health impacts on children (1-2).

Evidence to support the use of Animal Assisted Therapy as a therapeutic adjunct.
1. Vagnoli, L., Caprilli, S., Vernucci, C., Zagni, S., Mugnai, F., & Messeri, A. 2015. Can presence of a dog reduce pain and distress in children during venipuncture?. Pain Management Nursing, 16(2), 89-95.
2. Lima, M., Silva, K., Amaral, I., Magalhães, A., & Sousa, L. 2014. Can you help when it hurts? Dogs as potential pain relief stimuli for children with profound intellectual and multiple disabilities. Pain Medicine, 15(11), 1983- 1986.
Aims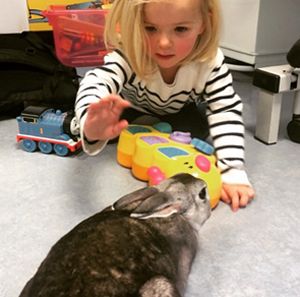 Encourage interaction between patients (inpatient & outpatient) and Holly to help improve their hospital experience.
Facilitate staff interaction with Holly and participation in staff meetings, to help improve inter-team working and boost morale.
Review Holly's impact on both patients, carers and staff through free text questionnaires and independent feedback.
Parents and Carers (n=37)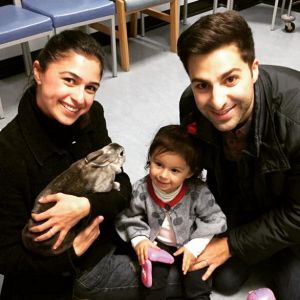 100% responded positively regarding their experience with Holly and her impact on their stay.
When exploring the feelings she evoked in patients, happiness (n=15) and calm (n=17) were reported in 86% of respondents.
Staff (n=19)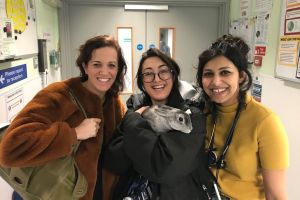 15 cited a positive therapeutic effect on patients
Benefits reported included: calming effect on patients, being a great distraction, boosting staff morale and improving team working.
Concerns raised: concern regarding infection control and ownership of caring for Holly.
Emerging theme: Mental Health
Both patients and staff questionnaire responses highlighted the beneficial effect Holly has had in improving experience and care of mental health patients.
20% of patients who responded identified a mental health complaint as their reason for admission (including depression, self-harm and intentional drug overdose). They all cited Holly's positive impact on their stay.
Conclusions
Introducing Holly to the ward has been shown to have beneficial effects on both patients and staff
She has made patients' stay more enjoyable, improved staff morale
Beneficial impact in improving the stay of patients admitted with mental health complaints
We feel this project's benefits could be replicated in other paediatric units to improve the care we provide and patients' experiences of the healthcare system.