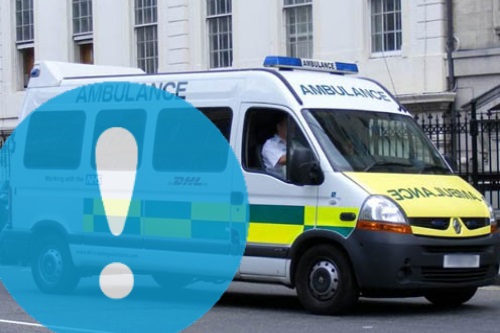 TEMPORARY CHANGES TO PATIENT TRANSPORT CRITERIA DURING COVID-19
During the Covid-19 pandemic, standard patient transport arrangements and its criteria (see below for standard list of criteria) have been superseded by new national guidance. The aim of the NHS in North Central London is to ensure safe and fast discharge from hospital, and provide patient transport to and from ongoing care appointments.

We have adopted the nationally agreed priority groups of patients for commissioned patient transport services. The changes are so we can prioritise transport for the residents and patients that need it most.
Priority for patient transport will be given to:
Patients with life-sustaining care needs who need to attend appointments for ongoing care and cannot safely use alternative transport
Patients defined on medical grounds as extremely vulnerable to COVID-19 and who are in need of appointments for ongoing care and cannot safely use alternative transport
Patients suspected of having COVID-19 who need appointments for ongoing care and have no access to private travel
Patients who have been discharged from hospital and need to be transported from one care setting to another, or home, if there is no alternative means of transport
For people who are not in a priority group, we are asking family, friends and local volunteer networks to help take them to and from hospital and other care settings. We will only do this when it is safe and possible to do so.
If you require patient transport during this time, please continue to follow the instructions below.
Patient Transport
Access to patient transport is provided based on medical need and our patient transport assessment centre run in partnership with DHL will use assessment questions for each booking to establish each patientís eligibility to access NHS-funded transport.
The eligibility criteria makes patient transport available to patients whose clinical condition means that travelling by any other means would be detrimental to their recovery or existing condition, such as (but not limited) to:
patients who need to be transported on a stretcher
some wheelchair patients
some patients receiving oxygen
patients who require paramedic services
patients who need the support of patient transport staff during the journey
Transport is provided based on medical need only and not whether the patient can afford the cost of their journeys to and from appointments. Some patients on a low income may be eligible for reimbursement of travel costs through the healthcare travel costs scheme (HTCS). This funding can also be issued in advance, either per journey or in a block sum, depending on the frequency of travel.
Do you need hospital transport?
Before you ask for transport, please consider the following:
Can you use the bus or use the tube? The hospital is a short walk up the hill from Archway tube station and a number of bus routes stop outside or very close by. Click here for more information about getting to our hospital.
Can a friend or family member bring you into hospital for your appointment?
We have limited parking spaces available for blue badge holders. On site parking for non-disabled drivers is only available outside the hours of 8am and 6pm Monday to Friday. This parking is pay and display.
Booking Patient Transport:
Transport is provided by our partners at DHL. DHL have been providing Patient Transport Services in London for over 20 years and in 2018 they completed more than 550,000 patient journeys.
The process to book your transport is simple and straight forward:
Make your medical appointment in the usual way.
Between 4 weeks to 2 days before your appointment you or your representative should contact the transport assessment team on

0333 240 4909

(The lines are open from Monday to Friday, 8am-5pm except bank holidays) to find out if you can apply for this service.
You will be taken through a series of assessment questions by a clinician to determine if you qualify.
If you are entitled to receive patient transport the transport will be booked.
When your transport arrives, all DHL staff will wear a DHL Identification Badge. You should always ask to see this before you let the crew into your home. If you have any concerns you should ask the crew to provide you with their ID badge, you can then call the number above to verify that the they are genuine. The crew will understand that your safety is important and won't mind waiting whilst you do this.
Cancellations
If your appointment is changed, or you cannot attend your appointment, please ring us as soon as possible on 0333 240 4909 to avoid wasted journeys.
Please note:
It is very important that you let us know if your plans change. We may have to cancel your transport if you are repeatedly not in when we call for you. We want to reassure you that if you need transport we will continue to provide it.
Your Questions Answered...
How is hospital transport booked?
You should contact the transport assessment team on 0333 240 4909 (open Monday to Friday, 8am-5pm excluding bank holidays) to find out if you can apply for this service. If you need help to request hospital transport, a friend, relative or carer can call on your behalf.

What does the assessment involve?
This is a short nurse-led, confidential telephone interview to assess your transport needs.


How much notice should I give?
Please contact the transport team on 0333 240 4909 no more than four weeks prior to the appointment date and at least two days before your appointment to give us time to arrange your transport.


What can I do if I am not eligible for transport?
You can contact the appeals team - at the end of the eligibility call you can ask for details about appealing the decision.
If you are not happy with the outcome of an appeal, you can contact our PALS team. You can find out more about them and how to contact them at
www.whittington.nhs.uk/PALS
.

If I am eligible for patient transport will you confirm my booking?
Yes. Three days before your hospital appointment, we will contact you to:
Confirm if you are still requiring transport to your appointment
Give you an opportunity to cancel your transport if it is not required
Tell you your unique journey ID
Tell you your approximate pick up window

When will I be collected?
This depends on your postcode; you should be collected to allow enough time for you to arrive before your appointment; 15-60 minutes before the scheduled appointment time. Please be ready when the transport arrives as drivers cannot wait more than ten minutes.

What happens when I get to the hospital?
The transport team will ensure you are taken to your appointment.


What happens when I'm ready to go home?
Please let a member of staff know and they will arrange for a porter to take you to the transport lounge at if you are being seen at our hospital. If your appointment has taken place at one of our other locations, please let the clinic team know, and they will advise the transport team you are ready to go home.

We will try to get you home as soon as we can. However, you may have to wait up to 120 minutes to be collected. It is important to note that journeys are planned to make the most effective use of our vehicles. This means that other patients may share the same vehicle with you.

Can I have an escort?
We use Department of Health and Social Care guidelines to decide whether an escort is appropriate. We will discuss this with you as part of the assessment process.