Help Whittington Health to #EndPJParalysis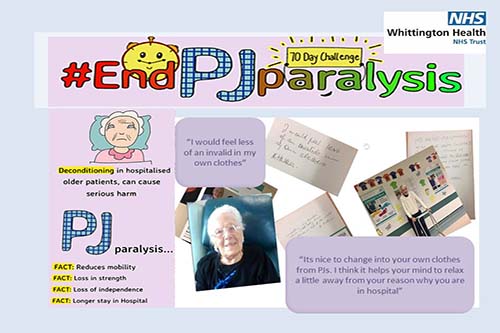 20 Apr 2018
Whittington Health NHS Trust is appealing to people coming to visit families and friends in hospital to help #EndPJParalysis.
Full story
Whittington Health NHS Trust is appealing to people coming to visit families and friends in hospital to help
#EndPJParalysis
.
As part of a national 70-day campaign to help patients regain strength and get home faster, staff at the Whittington Hospital are pledging to help patients get dressed and out of bed while they are in hospital.
While staff will be encouraging patients who are able to get dressed and get out of bed for some of the day, the hospital is appealing to friends and family who come to visit to support their loved ones in boosting their recovery by taking home clothes that need a wash and bringing in fresh clothing so that patients have clean clothes to wear.
Chief Nurse Michelle Johnson said:

"It isn't normal for people to spend all day in pyjamas at home, so if they are able to get dressed, why should they do this in hospital? While patients often need rest, spending too much time in bed when they don't need to can actually be damaging – one week of bed rest can make a patient 10 per cent weaker. Getting dressed makes it more likely that patients will get out of bed and move around, meaning that they will regain strength and often have to spend less time in hospital.
"To do this, patients need support from their loved ones – family and friends can help by taking home clothes that need a wash and bringing in fresh outfits. This is a way that everyone – staff, family and friends – can come together to help patients get back to their own homes faster."
Research has found that:
Just 10 days of bed rest in hospital can mean muscles ageing by an equivalent of 10 years in patients over 80
Patients who walk about more often are more likely to go home faster
By getting dressed and moving about, maintaining physical strength, patients are less likely to fall and have pressure injuries
Family members and friends can also help to encourage patients to get up and move around as early as possible in their recovery. Patients who aren't able to get out of bed can still be encouraged to live as normally as possible for them while in hospital. For example, putting on even a single piece of their own clothing, such as a cardigan, or helping them to put some make-up on if they want to, can help patients to start to reconnect with life outside hospital.

Background Information

The 70 day long national #EndPJParalysis campaign, aimed at achieving one million patient days of relevant patients being up, dressed and mobilising, kicks off on 17 April. It looks to better value patient time and help them to get home faster. NHS England, which is running the national campaign, has set out some facts to support the campaign:
10 days of bed rest in hospital leads to the equivalent of 10 years ageing in the muscles of people over 80 (Kortbein et al 2004, J Gerontology)
One study showed 60% of immobile older patients had no medical reason that required bed rest (Graf 2006, Am J Nursing)
A 50% increase in walking while in hospital was associated with a 6% shorter length of stay (McCullough et al 2006, Phys Measure)
The application of #EndPJparalysis in Ward C4, Trauma & Orthopaedic Unit, Nottingham University Hospitals, led to

37% reduction in falls
86% reduction in pressure injuries
80% reduction in patient complaints
Spot audit showed reduction in length of stay of 1.5 days

47 per cent of delayed transfers of care in one study related to deconditioning (Lim et al 2006)
More information on the national campaign can be found on the national campaign website http://www.endpjparalysis.com/ and the blog from NHS England Chief Nursing Officer Professor Jane Cummings.
For media enquiries only, please contact the Communications and Engagement Team on 020 7288 3495.