Bros run for Whit Health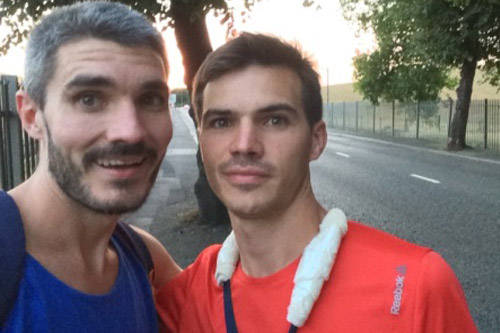 16 Apr 2019
Two brothers will be racing against each other in this year's London Marathon to raise money for our charity.
Full story
For most runners in this year's London Marathon, getting over the finish line will be enough of an achievement. However, for the Heaney brothers it will mean bragging rights for the rest of the year – all while raising money for their family hospital.

The Whittington Hospital Charitable Funds support and fund care that goes beyond the care that the trust is funded to provide, such as medical equipment with a higher spec or additional support for patients and staff. By spending money on extra equipment, better facilities and a more comfortable environment, the charity can offer patients the highest standards of care in the best possible surroundings. Every year, people challenge themselves to run a marathon, giving up time to train, run and recover, to improve the staff and patient experience at Whittington Health.

Joe and Brendan Heaney, who will be running the marathon for our charity on 28 April 2019, have been part of the Whittington Health family their whole lives. Their mother, Margo, has been working at the hospital as a Rapid Response Matron for almost thirty years. So it was no surprise when Joe decided to follow in his mother's footsteps – with his younger brother not far behind him.

"My mum was a big motivation," says Joe, a Community Matron raising money for our Maternity Fund, "I worked in intensive care for a while, but I now really enjoy going out in the community and speaking to patients in their home. When I heard all the stories from my mum, I knew this is what I would want to do. My mum trained at Whittington Hospital 30 years ago. She is Whittington through and through – I hope I get to work here for 30 years too!"

For Brendan, the positive stories of the Whittington from his family encouraged him to train as a Paramedic. "Whittington Health plays a big part in the family," Brendan says. "Joe is having his first child at the Whittington Hospital as well. Every time the family get together and talk about stories from work, it seems like a very nice community, from both staff and patients."

For the Heaney brothers, running the Marathon together isn't just about brotherly competition, but also to raise money for an organisation which has been there for them in the good times and the bad: "My main motivation to raise money for the charity is because of the way the early pregnancy unit looked after us. My wife and I had a miscarriage last year that wasn't managed well until we came to Whittington Hospital" said Joe.

As well as healthcare, the brothers share a love for sport. "Joe and I play squash every so often and I always wipe the floor with him!" says Brendan, "Not only is he in my shadow running, he's also in my shadow playing squash!"

Joe partly agrees, but says "My brother and I have a good level of competition; we do lots of things together. He's certainly a better runner, but I can chuck about more weight than him!"

Brendan agrees that he can't compete with Joe's sport of choice: UFC. "Joe from a young age was very sports orientated. I'm built like a garden rake; I won't be stepping into a UFC ring unless I'm holding up round cards!"