Year of the Nurse and Midwife - Why I Heart Nursing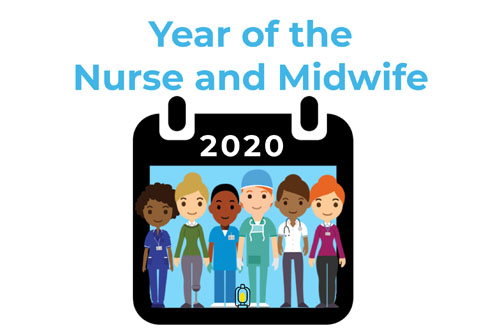 14 Feb 2020
A blog from Sharon Robinson, Cardiac Specialist Nurse.
Full story
For Valentines day, as part of a series of blogs to celebrate 2020: Year of the Nurse and Midwife, we hear from Sharon Robinson, Cardiac Specialist Nurse about how she became a specialist nurse, how she cares for hearts what that entails and what advice she would give her younger self!

I Heart Nursing - Sharon Robinson
I arrived at The Whittington from Ireland in 1993 to embark on a 3 year Diploma in Adult Nursing. 27 years later I am still here. I could never imagine working anywhere else.
The Whittington offered me a home from home all those years ago, a career I am very proud of and friends I will have for life. Towards the end of my three years training I had a placement on the coronary care unit. It was such an amazing team to work with and they made me feel an integral part of the team even though I was a student.
I was persuaded to apply for a job there upon qualifying. I spent many happy years there and eventually the time came to spread my wings initially applying for a ward sisterís post on the newly opened medical assessment unit and then eventually ward manager.
Although I embraced my time in these new roles I felt my heart belonged in cardiology so when an opportunity arose to become an interim cardiac rehabilitation nurse I jumped at the opportunity. 18 years later I can honestly say I am lucky enough to have a job where I still look forward to coming to work each day. I have the same enthusiasm, passion and drive that I had when I first started on this journey.
As a cardiac rehabilitation nurse specialist my role is to help, educate and guide patients throughout their journey to a healthier lifestyle by reducing their cardiovascular risk factors and enabling them to self-manage their cardiac conditions. This may be following cardiac surgery or a new diagnosis of a cardiac condition. The skills required to do this role are excellent communication skills, compassion & empathy. You need to be a team player. It also helps to be patient, persuasive and to understand time is the essence to achieving all of this.
No two days are the same. I love that I help people change their lives for the better. I love that I get to work across hospital and community. Working in the patientís environment makes a big difference to their rehabilitation. It certainly brings its share of emotions, it is a very rewarding role and I feel I make a real difference.
And what advice would the me of today give to me at the start of my career: Take time to reflect at the end of each day, not every day will be good but there will be something good in everyday. To sum it up, a patient once said to me find a job you love and give up work!