Airline Crew Step in to Provide First Class Service to our Staff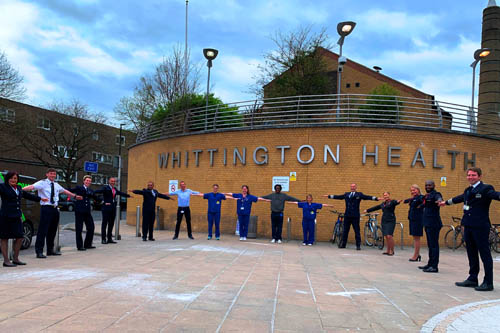 02 Apr 2020
Airline Crew from across the industry have come together to form Project Wingman to support the well-being of frontline NHS staff during the COVID-19 outbreak.
Full story
Project Wingman invokes the image of supporting a colleague in need. It was launched this week at the Whittington Hospital in North London.
It was extremely well received by doctors, nurses, Allied Health Professionals and support staff who dropped in to the mini "first class lounge" created by the crews. It will initially provide "tea and sympathy" for staff before, during and after shifts, and a chance to unwind, decompress and unload whilst chatting to a fellow professional who is used to the pressures of working in a stressful environment.
"We want to look after the wellbeing of all of all frontline NHS staff" says Professor Rob Bor, Consultant Clinical psychologist: "we immediately thought of airline staff and reached out to them to support us. Many airline crews have been grounded by the global effects of Covid-19 and we recognised that this represents a rich resource of a uniformed and disciplined workforce, used to problem-solving and providing care. "

We called on Captain Dave Fielding of British Airways and Captain Emma Henderson of Easyjet, and between them, they have sent out a "call to arms" to all aircrew across every airline regardless of brand."
"This is a unilateral response by a group of uniformed professionals from across the airline industry" says Captain Henderson, who has been co-ordinating a rapidly growing database of more than 500 volunteers from almost every airline represented in the UK.
Siobhan Harrington, CEO of the Whittington Health NHS Trust thanked the industry for its support: "the impact of having uniformed fellow professionals actively support our front line staff will be enormous. We cannot thank the pilots and cabin crew enough. Professionals coming together to support our staff will help more than you can imagine. This will be a massive boost to our resources, capability and morale. We are deeply grateful."
Airline crew will not be working directly with patients, but will support staff in a number of practical ways so they can do their job effectively. They will be deploying the friendly welcoming smiles they are famous for whilst providing staff with refreshments and somewhere comfortable to sit. More importantly they will also be using their unique skills in problem solving and decompression techniques learned from their training for managing stressful and pressurised situations. Above all they will be offering a listening ear, comfort and kindness when staff need it most.
So far flight deck and cabin crew from British Airways, BA CityFlyer, Easyjet and Norwegian have reported for duty.
Project Wingman is initially being implemented in partnership with the Whittington hospital in London before being rolled out rapidly amongst other NHS Trusts across the UK in collaboration with HelpForce, a small charity with a big heart who are working to coordinate offers of help and recruit volunteers where the NHS needs them.
Notes to editors:
For more information about the trust of the awards contact The Communications Team via Communications.WhittHealth@NHS.net or call 020 7288 3096.
Footage will be available from around 15.30 today (Thursday) on a pooled basis from the BBC. This includes GVs and interviews with crew and Whittington Health Staff. Please contact the BBC at New Broadcasting House to obtain this.
Photos are available for use alongside publication of this story, they can be downloaded from
WeTransfer by clicking here
. Attribution is not required. Unfortunately due to the need to reduce footfall into our hospital and to maintain social distancing we cannot permit outlets to send their own photographers.