Improvements in Freedom To Speak Up service noted by the National Guardian's Office.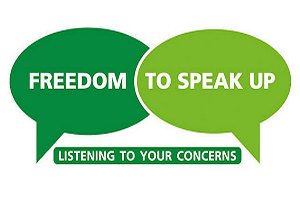 24 Apr 2020
Following a recent review of past Freedom To Speak Up cases, the National Guardian's Office have commented on a number of improvements that have been made to this service for staff at Whittington Health.

Full story
The
National Guardian's Office
(NGO) supports any organisation who has implemented the "Freedom to Speak Up" initiative which encourages support workers to 'speak up' about any concern that prevents them from achieving a positive and healthy working life. Whittington Health has a Freedom To Speak Up function for any member of staff to use.
The NGO do not review all cases, but will look into examples referred to them to explore whether there are any lessons to be learned for the future. In this review, they looked two historical cases dating back to 2015 involving two different members of staff working at Whittington Health. The NGO looked at how the speaking up function was operating at Whittington Health and reported encouraging areas of good practice, such as:
The Freedom to Speak Up Guardian's post being a full-time position since 2018 (it was previously limited to 1.5 days per week)
Regular meetings between the Freedom to Speak Up Guardian and HR Business Partners to promote understanding and support people to speak up
Regular support provided to the Freedom to Speak Up Guardian, in line with national guidance.

As well as a number of examples of good practice, the review also highlighted areas of improvement for the Trust. These areas include the need to improve the Trust's policy on speaking up; thanking and giving feedback to those who did speak up; and improving the process for managing grievances.
In light of this, a new grievance policy for staff was introduced earlier this year and training for 80 mediators was undertaken to support managers and staff. The report also noted that Whittington Health NHS Trust had undertaken an in-depth culture review, that specifically looked at bullying and harassment, which was completed in 2018 and that an ongoing workplace culture programme – 'Caring For Those Who Care' – is already underway. Additional Speak up Advocates were trained earlier this year and we will continue to promote them and how they can support staff who want to raise a concern.
Siobhan Harrington, CEO of Whittington Health said:
"Ensuring that people feel safe to raise concerns is vitally important. That is why one of my first acts as Chief Executive in 2017 was to begin a review into our culture.
"The report highlights how far we have come in recent years in providing a service to support those who wish to speak up. We strongly believe that better never stops and so the findings will also support us in improving the service and embedding it in what we do day in, day out."
Dr Henrietta Hughes OBE, National Guardian for the NHS said:
"It's really encouraging to see that Whittington is taking actions to improve the speaking up culture including areas the case review highlighted. "The range of actions being taken go from helping workers better understand the Freedom to Speak Up Guardian role through to simply thanking those workers who do speak up. Very often simply engaging people on that level so that workers are assured the organisation wants to listen to what they have to say can make a huge impact."
The Case Review Report from the National Guardian's Office is available to read in full
here.
Update: 10 July 2020

The Freedom To Speak Up Index is shared annually by the National Guardian's Office and is a key metric for organisations to monitor their speaking up culture. The data that is collected to inform the Index is captured from the annual NHS Staff Survey and asks members of staff questions that provide indicators as to how the speaking up culture at their organisation is currently functioning.
Following the data that was captured in the 2019 NHS Staff Survey, we are incredibly encouraged to have improved our overall FTSU Index score by 3% from 2018 and we are also in the top ten most improved Trusts in England for 2019 and we are the most improved Trust in London.
In 2018 the overall FTSU Index score for Whittington Health was 75.9% and in 2019 this increased by 3% to 78.9%. A score of 70% is perceived as a healthy culture and so we are pleased to see that we are tracking above average and seeing improvements year on year.


Whittington Health's Freedom To Speak Up Guardian, Ruben Ferreira said:

"It is invaluable for us to be able to measure the impact of our work, whichever direction this may be, and our latest Index score result shines an encouraging light on the improvements we have made over the past year.
The combined efforts between myself as the Freedom to Speak Up Guardian, the support of the Trust Board and our network of Speak Up Advocates are having a positive effect and it is great to see that as a result we are featured in the top 10 Trusts in England with most the improved Index score.
We will continually strive to improve our speaking up culture by encouraging colleagues to raise their concerns in a safe and confidential way and always welcoming and thanking them for doing so. Embedding this culture will improve staff experience and therefore patient care. Please continue to speak up."
You can read the full Freedom to Speak Up Index Report
here.