Yvonne Coghill's Blog: Covid 19 and the Vaccine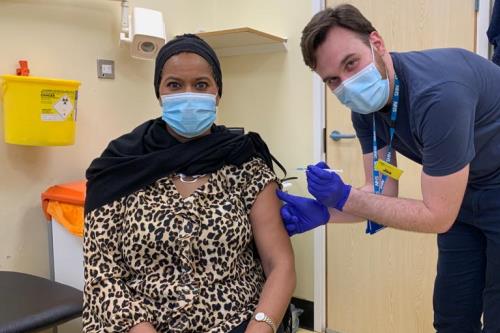 12 Jan 2020
Yvonne Coghill, who was until recently the NHS's National Director for Workforce Race Equality Standards (WRES) implementation and Deputy Director of the RCN discusses the COVID-19 vaccine
Full story
We are delighted to announce that Yvonne Coghill, who until recently was the NHS's National Director for Workforce Race Equality Standards (WRES) implementation and Deputy Director of the RCN, is joining Whittington Health to support us to close the gap on some of the WRES indicators and improve the experience of working at Whittington Health for colleagues from a black, minority ethnic or Asian background.
On her first day with us yesterday she also received her COVID-19 vaccination, and in this blog she shares her thoughts on the Vaccine:
Covid 19 has made us all stop in our tracks and take stock, in one way or another our lives have changed completely forever. This time last year people were full of hopes and dreams for the coming year, the usual New Year's resolution fare, to lose weight, get fit, to travel. One year later we are wishing for one thing and that is for this dreadful pandemic to end.
Let's face it, 2020, was a horrific year and the beginning of 2021 has been no better. In a perverse way, in the year of the nurse and midwife people really appreciated the worth and value of our NHS and the talented men and women that work in it. People that selflessly put themselves and their families lives at risk to support and care for others.
Back in March 2020 when we first went into lockdown, I am sure no one believed we would be still be in the situation we find ourselves 9 months later.
Covid 19 has bought death, sorrow, fear and uncertainty in equal measure, it has stopped long held plans and dreams from being fulfilled and made many of us change what we believe to be important.
This lockdown is different and that's because at last we have got light at the end of a very long, dark and dismal tunnel, we have thankfully now got the vaccines.
As the vaccines were being produced I heard a lot of non-white people talking about them and saying they were not going to take them.
A recent race equality survey carried out by the Royal society of Public Health
found that non white people were less likely to take the vaccine (76% white people compared to 57% non white) The main reasons were fear and a lack of trust in the vaccine. A friend put it this way, "Why should we trust that this vaccine will be good for us, we are usually at the back of the queue for healthcare, how come we are being actively encouraged to be at the front?"
There is a genuine fear that because the vaccine has been produced at pace that it has not got a solid enough evidence base and might therefore be harmful to them or their families. Some people I spoke to also cited the famous
Tuskagee experiment
in the US where black men were experimented on.
This got me to thinking about vaccine uptake generally and the fact that several studies have shown that people from ethnic backgrounds are less likely to take vaccines so I did what I always do when I am unsure about something to do with race equality, I have a conversation with world race and health expert Dr David R Williams of Harvard University. David was very clear, if offered the vaccine non-white people should take it. The reasons were clear:
Black, Asian and other minority ethnic groups have disproportionately affected by the disease and have succumbed to the disease in greater numbers than they are in the population.
The vaccine to date has not killed anyone, Covid on the other hand to date has killed thousands of people
We all want to be able to go about our daily lives without the fear that we will contract the disease and pass it on to our loved ones.
All sound reason however, just to be sure, I contacted another friend,
Dr Mark Smith
Health Policy leader and past CEO of The California Healthcare Foundation, Marks response was instant and in the form of a picture…of him receiving the vaccine.

I know that people are anxious about taking the vaccine and I understand why, however let's be honest, if 1000s of people in their 80s with various comorbidities have taken it and not experienced terrible side effects it would appear the vaccine is safe.
So, when I was invited to take the vaccine I did not hesitate to agree to taking it. Personally, as a black woman of a certain age and weight, knowing what I know and seeing what I have seen, there was no question, I was definitely going to take it.
Yesterday I had my first dose of the vaccine, administered by the fantastic, kind and professional staff at Whittington Health. One day on, I can honestly say, that I feel absolutely fine, the injection site is a bit tender but otherwise, fit and well and actually psychologically feeling little bit safer that I did before. Roll on March when I will be receiving my booster shot to bolster my immunity.
All those out there perhaps thinking that they won't take the vaccine, I urge you to reconsider, the decision could save your life.