Cytopathology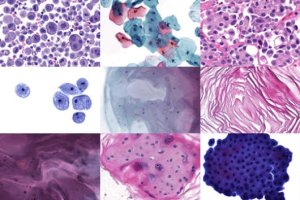 Main Address
Histopathology and Cytopathology
Whittington Health
5th Floor K Block
Magdala Avenue
London
N19 5NF
020 7288 5211/5076
Cytopathology is a branch of pathology that studies and diagnoses diseases on the cellular level. The discipline was founded by Rudolf Virchow in 1858. A common application of cytopathology is the Pap smear, used as a screening tool, to detect precancerous cervical lesions and prevent cervical cancer.
†
Cytopathology is also commonly used to investigate thyroid lesions, diseases involving sterile body cavities (peritoneal, pleural, and cerebrospinal), and a wide range of other body sites. It is usually used to aid in the diagnosis of cancer, but also helps in the diagnosis of certain infectious diseases and other inflammatory conditions.
†
The cytopathology department receives approximately 1000 diagnostic specimens and 24,000 (hospital and community) cervical samples. The team includes biomedical scientists, medical laboratory assistants, clerical and administrative staff and two pathologists have an interest in and report cytopathology.
Routine working hours
Monday to Friday
09:00 to 17:00