Pathology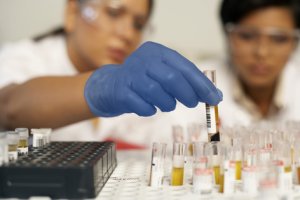 Main Address
Pathology
Whittington Health
5 th floor - K Block
Magdala Avenue
London
N19 5NF
Pathology services at Whittington Health offer a full range of laboratory investigations, support and clinical advice.  A 24 hour service is provided where necessary.
Services include:
Blood Tests
Blood Sciences (includes Biochemistry and Haematology)
Cytopathology
Histopathology
Microbiology (includes Immunology, Infection Control and Semen Analysis)
All laboratories are UKAS accredited to ISO15189:2012 with an expiry date of 31/08/2022.

The blood transfusion laboratory complies with the Blood Safety and Quality Regulations (BSQR) (2005) and Medicines and Healthcare products Regulatory Agency (MHRA) regulations.
In addition all departments participate in external quality control schemes to monitor performance.
Further Information
Telephone:
Blood sciences: 020 7288 5775/5776
Blood transfusion: 020 7288 5766/5762
Cytopathology: 020 7288 5422
Histopathology: 020 7288 5076
Microbiology: 020 7288 5088
Page last updated: 18 Jun 2020