Occupational Therapy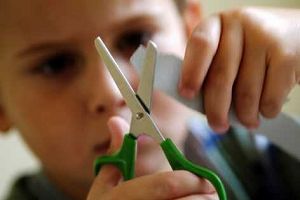 Occupational Therapists (OT) help children participate in meaningful, everyday activities. A child's 'occupation' includes activities such as playing with toys, school, helping to dress, eat, write, use the toilet. Occupational Therapists will also assess a child's underlying skills (e.g. co-ordination, how they use their senses, hand skills), and how they take part in everyday activities.
Occupational therapists work as part of a team that involves training, joint assessment, target setting, joint planning, and assessment for the provision of specialist equipment. They also write and review programmes for use at school and at home.
At times treatment may be offered to achieve specific functional goals. This may be in the form of a programme for a class, group or a short block of individual sessions. Treatment may include providing special equipment (switches, hand splints, special seating, adapted cutlery).
Occupational Therapists work closely with the local wheelchair services when buggies or wheelchairs are required. Occupational Therapists carry out home visits to students who reside in Islington and will work closely with local community therapists for students who attend an Islington special school but do not reside in Islington. If families have safety concerns or require adaptations to be made to the home environment, Occupational Therapists will work closely with Social Services Occupational Therapists, and with housing departments.