Lymphoedema Service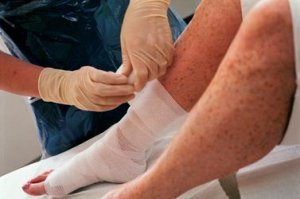 Main Address
River Place Health Centre
Essex Road
London
N1 2DE
020 3316 8702
Update for patients, May 2020:
Referrals are being accepted and will be triaged as normal. Telephone consultations are being offered for assessments. Please note that due to restrictions as a result of COVID-19, routine appointments for patients already under the care of the service are being offered as telephone consultations instead. If this applies to you, our team will be in touch to arrange a time and date.
The aim of the service is to:
Assess and treat patients with:

Primary Lymphoedema; where swelling is related to an underlying intrinsic problem with the lymphatic system which is often hereditary
Secondary Lymphoedema ; where swelling, in any part of the body, is caused by extrinsic factors including damage to the lymphatic system or disruption to drainage pathways which can be as a result of cancer or its treatment, infection, injury or trauma, inflammation of the limb, or a lack of limb movement.

To advice and support health care professionals on the management of patients with all categories Lymphoedema.
Rising awareness of cellulitis management in patients with Lymphoedema including current management practice and guidelines.

Referrals
Referrals are accepted for oncology patients with swelling or who are at risk of swelling secondary to cancer treatment or disease progression. A priority triage category will be given to referrals for assessment of lymphoedema secondary to oncological causes or those where the patient is receiving palliative or end of life care.
Non- cancer related referrals will be accepted for patients with swelling of longer than 3 months duration which has not responded to elevation or diuretics
Lymphoedema referrals are triaged according to category and allocated to the most appropriate local clinic dependant on CCG.
All requests for domiciliary visits for patients with an Islington GP will be assessed on an individual basis and patients will be asked to attend a clinic if there are no health related contra-indications noted. Hospital transport can be requested if patients meet the eligibility criteria. This service is not commissioned for home visits in Haringey
Referrals are accepted from any health professional for patients aged 18 years or over who live or have a GP in Haringey or Islington.
We are unable to accept self-referral from patients.
To refer to the Lymphoedema Service , please complete the relevant forms listed below and return to the e-mail address on the form:
Alternatively, a medical clinic letter from a healthcare professional will be accepted on clinicianís discretion. Please ensure that it is e-mailed to the central booking service
whh-tr.arti.centralbooking@nhs.net
.
Waiting times
We aim to see patient on receipt of referral:
Palliative patients within 2 weeks
All other referrals will be prioritised and seen within 6 weeks.
Inappropriate referral:
The patient has been referred for implementation or maintenance of standard care including routine Doppler assessment and fitting garments for uncomplicated venous oedema
The patient has an ulceration to the legs
Referral information is incomplete
Lymphoedema further information:
Opening Hours
Monday†- Friday
8am - 6pm