Inpatients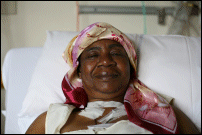 This section will provide you with the information you need before and during your hospital stay.

Our staff are here to help you. If you have any questions about your treatment or stay, please do not hesitate to ask the nurse in charge of your ward and if required, they will contact the doctors who are treating you.
PLEASE NOTE - The Whittington is a teaching hospital, so medical students may be present on the ward for training purposes. Please speak to the nurse in charge if you have any objections. Your decision will not affect your care.