MSK CATS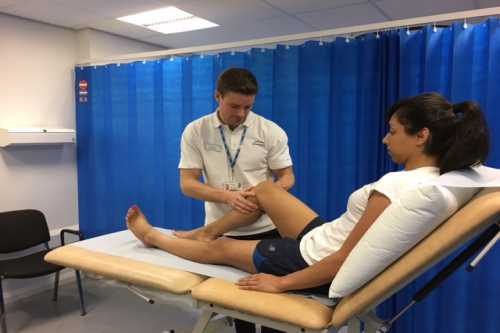 Main Address
MSK CATS and Physiotherapy Services
Whittington Health
St Ann's Hospital
Therapies Centre,
Q Block,
St Ann's Road
London
N15 3TH
020 3224 4744
The Musculoskeletal Clinical Assessment and Treatment (MSK CATS) Service is a primary care assessment, diagnostic and management service run by Extended Scope Physiotherapists and GP's with a musculoskeletal special interest (GPwSI's). These are highly expert staff with many years experience in musculoskeletal medicine and close links with secondary care consultants in Orthopaedics and Rheumatology.
Opening Hours
08:30 – 16:30
Monday – Friday
Objectives
This service is for:
Musculoskeletal patients for whom conservative management has not worked

Assessment of complex musculoskeletal problems

Patients that may be suitable for peripheral soft tissue or joint steroid injections

Screening of patients who may need secondary care intervention.

This service provides:
Expert musculoskeletal assessment, diagnosis and management planning

Assessment for suitability and delivery of soft tissue and joint steroid injections

Direct referral for investigations (MRI, US, Xray, EMG/ NCS, bloods)

Streamlined onward referral into secondary care if necessary

Referral to MSK Physiotherapy and Podiatry

Self management advice, reassurance and explanation

Musculoskeletal Clinical Assessment and Treatment exclusion criteria (exceptions for direct referral to secondary care):
Screened systemic inflammatory disease requiring medical management

Suspicion of serious pathology (malignancy, infection, etc)

Signs of cord compression / cauda equina syndrome

Suspicion of recent fracture requiring intervention

Age under 16 years

This service is provided at:
Bounds Green Health Centre
1A Gordon Road
London
N11 2PA


Holloway Community Health Centre,
11 Hornsey Street,
London,
N7 8GG
Tel: 020 3316 8840 

Hornsey Central Neighbourhood Health Centre,
151 Park Road,
Hornsey,
N8 8JD
Tel: 020 3074 2720

Lordship Lane Primary Care Health Centre,
239 Lordship Lane,
Tottenham,
N17 6AA.
Tel: 020 3224 4111