MSK Physiotherapy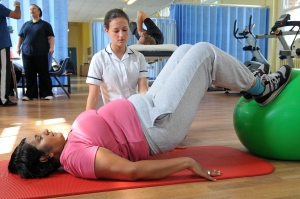 Main Address
Musculoskeletal Physiotherapy Department
Magdala Avenue
London N19 5NF
020 7288 5660
In†
Musculoskeletal Physiotherapy
we take an evidence-based approach in our†
assessments and treatments
and are committed to providing high quality patient care. Our Team has clinicians experienced in assessment, treatment and management of a wide range of musculoskeletal conditions. We are the NHS provider of physiotherapy healthcare services in Haringey and Islington offering a comprehensive range of community physiotherapy services to the local population.
†
Physiotherapy helps restore movement and function when someone is affected by injury, illness or disability.
Physiotherapy can help with back pain, sudden injury and long-term medical conditions as well as childbirth and sporting injuries.
They maintain health for people of all ages, helping patients to manage pain and prevent disease.
The profession helps to encourage development and facilitate recovery, enabling people to stay in work while helping them to remain independent for as long as possible.
What is physiotherapy?
†
The services we provide include:
Assessment, diagnosis and evidence based management of all musculoskeletal conditions
Chronic pain service undertakes a multidisciplinary approach depending on patient needs (Physiotherapy, IAPT, Psychology, Pharmacy and ready access to pain consultants)
Lower limb service including rehabilitation classes, ACL and OA knee classes
Spinal rehabilitation service including spinal fitness classes, back to fitness classes
Upper limb service including specialist shoulder rehabilitation
Injection therapy (internal physiotherapist referral to service only)
Direct onward referral for investigations (including X-ray and MRI) and for specialist opinions from a consultant if appropriate.
Work closely with Psychology service, health trainers and cognitive behavioural therapists
We have a dedicated Turkish speaking service including back to fitness classes
Opening Hours
Please see information by location
Objectives
Holloway Health Centre
Finsbury Health Centre
Haringey†sites:
Lordship lane Health Centre
Bounds Green Health Centre
St Annís hospital
Hornsey Central Health Centre
Whittington Hospital
Further Information
Whittington Hospital
Musculoskeletal Physiotherapy Department
Magdala Avenue
London
N19 5NF
Tel: 020 7288 5660
†
Hornsey Central Neighbourhood Health Centre
151 Park Road
Hornsey
London
N8 8JD
Tel: 020 3074 2400

Finsbury Health Centre
Musculoskeletal Physiotherapy Department
17 Pine St
Islington
London
EC1R 0LP
Tel: 020 3316 1100
†
Holloway Community Health Centre
11 Hornsey Street
London
N7 8GG
Tel: 020 3316 8800

St Annís Hospital
Musculoskeletal Physiotherapy Department Block C
St Annís Road
Tottenham
London
N15 3TH
Tel: 020 3224 4789†
†
Lordship Lane Primary Care Health Centre
Musculoskeletal Physiotherapy Department
239 Lordship Lane
Tottenham
London
N17 6AA
Tel: 020 3224 4111

Bounds Green Health Centre
Musculoskeletal Physiotherapy Department
Gordon Road
Bounds Green
London
N11 2PA
Tel: 020 3074 2800†
†