MSK Physiotherapy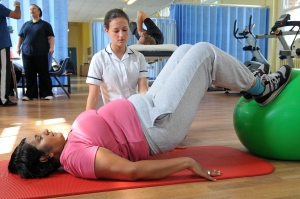 Main Address
Musculoskeletal Physiotherapy Department
Magdala Avenue
London N19 5NF
0207 288 5176
Empowering local people to lead active and independent lives
Our physiotherapy service provides assessment and treatment of musculoskeletal (MSK) disorders across seven sites in Haringey and Islington.
Our service runs between 8am and 6pm, Monday to Friday, but this may differ between locations and specialities within our service.
You can
self refer
to our service, meaning you do not have to speak to your GP first.
We aim to provide a broad range of MSK services that includes:
Routine one-to-one physiotherapy at all seven sites
Urgent physiotherapy for those whose conditions may threaten their long term health and wellbeing
Virtual appointments either via telephone or video consultation
A drop in service for those with referrals received from fracture clinic, providing timely treatment of acute disorders
A Chronic Pain service that integrates healthcare professionals from psychology, pharmacy and consultant doctors specialising in Chronic Pain
A Turkish service with in-house translators to cater for our large local population
Classes for a host of MSK disorders, such as our

Back Classes for low back pain
Quadrant Classes for neck & shoulder problems
Pain Class for arthritic knees and hips
ACL Rehab classes
Lower limb classes for other hip/knee/foot/ankle disorders
General exercise classes

Closely working with MSK Clinical Assessment And Treatment Service (MSK CATS) to identify needs for further assessment and interventions when appropriate
Appointments
To help keep everyone safe, a number of our appointments are now being moved online. To help you understand how virtual appointments work we have prepared this video:
Further Information
Whittington Hospital
Musculoskeletal Physiotherapy Department
Magdala Avenue
London
N19 5NF
Tel: 020 7288 5660
†
Hornsey Central Neighbourhood Health Centre
151 Park Road
Hornsey
London
N8 8JD
Tel: 020 3074 2400

Finsbury Health Centre
Musculoskeletal Physiotherapy Department
17 Pine St
Islington
London
EC1R 0LP
Tel: 020 3316 1100
†
Holloway Community Health Centre
11 Hornsey Street
London
N7 8GG
Tel: 020 3316 8800

St Annís Hospital
Musculoskeletal Physiotherapy Department Block C
St Annís Road
Tottenham
London
N15 3TH
Tel: 020 3224 4789†
†
Lordship Lane Primary Care Health Centre
Musculoskeletal Physiotherapy Department
239 Lordship Lane
Tottenham
London
N17 6AA
Tel: 020 3224 4111

Bounds Green Health Centre
Musculoskeletal Physiotherapy Department
Gordon Road
Bounds Green
London
N11 2PA
Tel: 020 3074 2800†
†
Please see information by location