Macmillan Information Service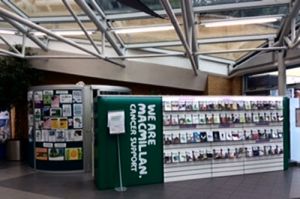 In October 2014, we officially opened a Macmillan Information and Support Centre (known as the "Macmillan Pod") at the Whittington Hospital.
We offer a friendly and relaxed environment, providing emotional support, information and practical advice to anyone affected by cancer. This includes families, carers and friends.
There is a wide range of free high-quality cancer materials available as well as signposting to other national and local support services. We have a monthly cancer support group, which is open to all cancer patients.
Anyone who is worried or affected by cancer is welcome to drop-in for a chat or to make an appointment.
Opening Hours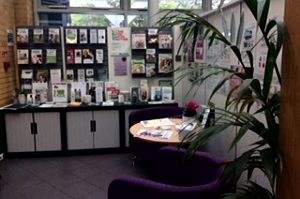 We are open Mondays to Fridays (excluding Bank Holidays) from 10am to 4pm. You can find us just inside the main entrance of the hospital on the ground floor.
Contact
Tracey Palmer
Ground Floor, Whittington Hospital, Magdala Ave, London, N19 5NF
Tel: 0207 288 5305 or 07881 834 433
Other useful contacts:
Macmillan Support Line
Tel: 0808 808 00 00
You can call the Support Line and ask in English to speak to someone in one of over 200 languages
Macmillan Support and Information Service at UCLH
Tel: 020 3447 8663
UCLH Radiotherapy Department
There is a Macmillan Support in the Radiotherapy department as well in the basement of the Euston Road Building, Main Hospital.
Patient enquiries: 020 3447 3700 / 020 3447 3701
Macmillan Information and Support Service at the Royal Free Hospital
Tel: 020 7794 0500 ext 31337
Cancer Research UK
Tel: Nurse Helpline 0808 800 4040
NHS Choices
On NHS Choices, search for "Behind the Headlines". It provides an unbiased and evidence-based analysis of health stories that make the news.
Cherry Lodge Cancer Care
Tel: 020 8441 7000
Maggie's at the Cancerkin Centre at the Royal Free Hospital
Tel: 020 7830 2323