Palliative Medicine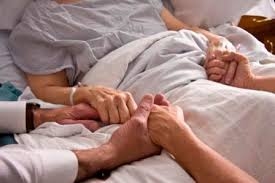 Main Address
The Whittington Hospital
Magdala Avenue
London
N19 5NF
020 7288 3682
Palliative care is for people living with a terminal (sometimes called life-limiting) illness and those with a complex illness where symptoms need to be controlled.
Palliative care makes you as comfortable as possible by managing your pain and other distressing symptoms. It also involves emotional, social and spiritual support for you and your family or carers.
You may receive palliative care in the last months or years of your life, or earlier in your illness while you are still receiving other therapies to treat your condition.

Palliative care team
Our team of clinical nurse specialists and consultant provide palliative care support for inpatients at The Whittington Hospital. We have specialist skills in pain and symptom management and provide support on emotional, social and spiritual matters at the end of life.
Patients remain under the care of their clinical team and receive additional care from the palliative care team
†
Palliative care guidelines
†
We follow local and national symptom control guidance and use an end of life care plan aid to make sure that patients and their families receive high quality care at the end of life.
Useful resources
Monday to Friday, 9am-5pm
Referrals are accepted from hospital inpatient clinical teams.
Patient Leaflet Other Language