Audiology and Vestibular Medicine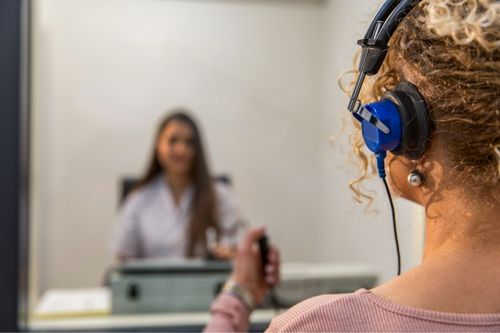 Main Address
Whittington Hospital Department of Audiology
0207 288 5220
whh-tr.Audiology-WhittHealth@nhs.net
Clinic 4B 4th Floor
Magdala Avenue
London N19 5NF

St Ann's Hospital
020 3224 4698
whh-tr.StAnns-Audiology@nhs.net
St Ann's Road
London
N15 3TH

The Adult Audiology and Vestibular Medicine department deals with hearing and balance disorders and provides a full range of diagnostic and electro-physiological services. It offers hearing and balance assessment, amplification, rehabilitation and hearing therapy. We accept referrals for adults of all ages from Islington and Haringey.

Our team consists of doctors, audiologists and audio-vestibular scientists.

Appointments
What to expect at your appointment
Before appointment:
Please make sure you have been referred by your GP. We offer an appointment within six weeks from the time we receive the referral. Please make sure your ears are free of wax – if they are not, we may be unable to test your hearing. If you have discharging ears, please contact your GP for treatment prior to your appointment. If you have hearing aids, please bring them with you.

During appointment:
The Audiologist will ask you about your hearing and general health. Your ears will then be checked and, providing they are clear, a hearing test will be carried out along with any other necessary tests.

We will discuss the hearing test results shortly after and agree on a management plan, including the provision of hearing aids, if required. We offer Phonak behind-the-ear (BTE) hearing aids in a choice of colours. A follow up will be arranged a few weeks after the fitting to evaluate the success of amplification and identify any issues.
Assessment (60 minutes): History, Otoscopy, PTA, Tympanometry, impression if required
Hearing Aid Issue (60 minutes): Check fit of hearing aid(s), programming, how to use your aid(s)
Follow up (30 minutes): Review of progress in person or via telephone
Reassessment (60 minutes): We recommended hearing is re-checked every 3-4 years
Repairs (15-30 minutes): Replacement of tubing and fine-tuning
Useful resources
Sensory team / Social services – Deaf and hearing support team at Haringey. Some equipment can be provided by your local borough. Telephone: 0208 489 2592 or email: deaf.service@haringey.gov.uk
Lead manager
Further Information
Audiology Students:
We are a training department for Audiology students on placement from University. You may be seen by a student or there may be a student present during your appointment. Please let us know if you do not want to be seen by a trainee Audiologist.

Lost hearing aids:
Your hearing aid(s) is a valuable item and should be looked after with care. If you lose or damage your hearing aid, you will be charged £70 (per aid) to replace it.

There are some exemptions to payment:
Children aged 18 years old and below
Hearing aids lost whilst being an in-patient in hospital
Patients on means-tested benefits (evidence will be required)
Patients who are not capable of looking after themselves (learning disability, dementia etc)
Victims of theft (evidence will be required as well as a police crime reference number)
War pensioners
Patients registered blind/partially sighted
Where the hearing aids are more than 5 years old (reassessment will be required to fit a newer hearing aid model)
Please note that it is assumed that you have only reported your hearing aid as being lost after thoroughly looking for it. If you find it after we have processed a payment and provided a replacement hearing aid, no refund can be issued. You will only receive the replacement hearing aid(s) once we have received proof of payment.

Please note cash payments are not accepted and payment should be made using either:
The cash and banking department on 020 7288 5457/5136. Quote the financial code M401 3505 and your hospital number. Upon receiving your receipt, please forward this to us so we can re-issue the replacement aid(s).
Bank transfer using the following details as well as using M401 3503 as a reference:
Bank Natwest
Account name The Whittington Hospital NHS Trust
Account number 10002367
Sort code 60 70 80
Drop off hearing aids/Postal service
If your hearing aids are faulty or require a repair and you do not wish to make an appointment or are unable to attend the department, you can post them (we recommend registered post) with a brief note of the problem and your identification. We will then repair your hearing aids and post them back to you within 3-4 working days.

Battery collection/allocation
Hearing aid batteries are available free of charge on production of your battery card from reception (no appointment necessary), as well as spare tubing. Alternatively, you can request batteries and/or tubing via post by sending a stamped addressed envelope to your Audiology clinic address.

Our hearing aids
We currently fit Phonak hearing aids in our department. All hearing aids provided by us are in the behind-the-ear style. The type of hearing aid selected will be based on your hearing loss as well as considering any dexterity or vision issues.
FAQ
Do I need a hearing test?
We would recommend seeing your GP and asking for a referral to Audiology for a hearing test if you have noticed:
Difficulty hearing TV at a level set for others
Struggle to hear and understand speech
People sound muffled and unclear
Difficulty hearing speech in noise
Difficulty hearing conversation on the phone or the doorbell ring
Hearing better on your 'good side' and having to turn your head to the conversation
Feeling isolated and drained from participating in conversation

Can I get a digital hearing aid from the NHS?
Yes, all hearing aids issued are digital and are set for your specific hearing levels and needs. They have functional microphones as well as automatic noise reduction, which can be helpful in a noisy environment. There are options for additional hearing aid programmes and a volume control (depending on the aid chosen), which you can discuss with the Audiologist.

How often should I check my hearing?
Hearing loss will gradually deteriorate as the years go by and we recommend requesting a hearing test every 3-4 years, or earlier if you notice significant changes to your hearing.
Will hearing aids damage my hearing?
Hearing will naturally deteriorate as a result of the ageing process and this cannot be prevented, however, there is no evidence that wearing hearing aids makes your hearing worse. Hearing aids are set up to your specific hearing levels and will not exceed your uncomfortable loudness levels.
How much do hearing aids cost?
Hearing aids, batteries and servicing are all free of charge on the NHS.

Is it difficult to adjust to wearing hearing aids?
Studies have shown it takes 2-3 months of wearing your hearing aids every day to acclimatise to them. We recommend building up usage gradually at the beginning, with the aim of wearing them from morning - evening every day.

Suggestions and comments
Monday - Friday
9 am - 5 pm
Adult audiology: We accept referrals from the GPs, ENT Doctors, Consultants in geriatric and memory clinic and other health professionals.
If you would like to refer an adult to this service, please use the online digital referral form below.