Children's Audiology (Hearing) Service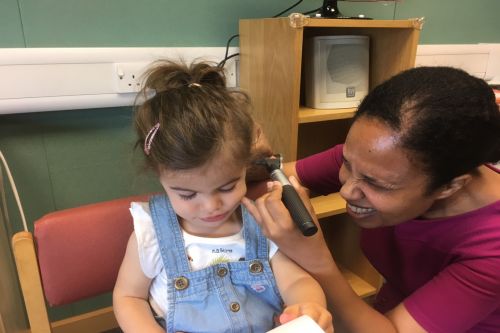 Main Address
St Ann's Hospital
St Ann's Road
London

N15 3TH
020 3224 4698 - Clinic Reception Audiological Medicine
St Annís Hospital:
We provide hearing assessments for babies and children with GPs in Haringey.
We also provide specialist diagnostics, and management of permanent hearing losses for children with GPs based in Haringey +Enfield and for babies referred from the Newborn hearing screening program.

Northern Health Centre:
The 2nd Tier Paediatric Audiology service at the Northern health centre provides hearing assessments for babies and children (from 6 months to 18 years) with GPs based in Camden & Islington. We may see children over 18 years if they have complex needs


Outreach clinic sites: Hornsey Rise health centre.
†
Barnet & Enfield Service.
†
†
Different types of hearing tests:
There are a variety of tests that an Audiologist may use to test your childís hearing behaviourally (this refers to tests where we rely on some type of response from the child to sound). The test used will be dependant on the developmental age of your child. The success of the test will also depend on other factors such as how tired a child maybe at the time of testing, their interest, attention span, etc. It may take more than one appointment to establish reliable test results in some children.

These are some of the common tests that we may perform, but this list is not exhaustive:
†
VRA (Visual Reinforcement Audiometry) from around 6 months - 30 months of age.
Sounds of different frequencies and levels are played through either speakers or earphones. The child is taught to turn their head every time they hear a sound where they will then be presented with a visual reward.
Play Audiometry - from around 3 years of age.
This techniques relies on conditioning (teaching) your child to complete an action in response to hearing a sound. The Audiologist will íplay a gameí initially presenting a sound and guiding/asking your child to place a peg on a board or a† similar action. It can be useful if you are able to prepare your child for this by playing íReady, steady, goí games at home prior to the appointment.
Pure Tone Audiometry - from 5 years onwards.
Your child will be asked to press a button in response to a sound and to listen for the quietest sounds they can hear.
Tympanometry.
This involves placing a small probe in the ear. The child will feel a gentle change of pressure in the ear. This gives us information about movement of the ear drum and the status of the middle ear It is a test often used to help diagnose a common condition in young children called glue ear.
OAE (Otoacoustic Emissions)
This involves placing a probe in the ear and measuring responses from the inner part of the ear(cochlea) in response to a sound. This can be affected by wax or middle ear dysfunction. It does require the child to be asleep or very still and quiet.
ABR (Auditory Brainstem Response) This test involves sensors being placed on your childís head and measures the brainís response to sound when different frequencies are played through earphones/headphones. This test is performed primarily on newborn babies as it requires the child to be asleep. For some babies/young children, one of our doctors may speak to you about using Melatonin to help your child to sleep in order for the testing to be completed.

Further Information
Key contacts
†
Clinic Reception Audiological Medicine
t: 020 3224 4698
†
Adult Audiology Secretary
t: 020 3224 4675 (24 hours)
†
Paediatric Audiology Secretary
t: 020 3224 4626† /† 020 3224 4689 and 0203 224 4675
Monday-Friday: 9am till 5pm
We do on occasion hold weekend clinics.

We accept referrals from the Newborn Hearing Screening Programme, GPís, Paediatricians, ENT Doctors, Health Visitors, Speech & Language Therapists, School Nurses and other health professionals.
†