Ambulatory Care Centre (Children)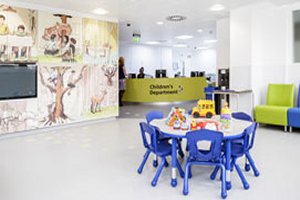 Main Address
Ambulatory care centre
Level 2
Whittington Hospital
Magdala Avenue
London
N19 5NF
Ambulatory care is same day emergency care.
Our ambulatory care centre is a safe way of providing care which aims to avoid unnecessary admissions but allows children to be observed for longer periods of time than is possible in our children's emergency department.

With our children's community nursing teams, it will continue to provide ongoing treatment and review for children who have been recently discharged. Our new consultant supported hospital-at-home service (currently in development) will also work closely with the service.
This is a day treatment service, so children and their families/carers may be asked to come back the following day for further review.
Latest facilities

The new centre offers greater capacity to treat more children and young people from Islington, Haringey and surrounding areas.

Services include intravenous antibiotics, observation and assessment and our urgent access children's '10-12' clinic which is part of the centre. Other facilities include a child play area and café. Free wifi access will soon be available.

High quality specialist care

The paediatric ambulatory service is a fully integrated component of our acute paediatric service. It is consultant led with support from our full paediatric multi-disciplinary team.

Support going home

At the heart of our ambulatory care centre is our integrated community services. It provides support for going home, ensuring care is coordinated with our children's community nursing services.
Our paediatric emergency department provides a 24-hour service specifically for children in a friendly environment. It is located next to the adult emergency department.
On arrival children are booked in at the main reception by their parent or guardian. After booking in they enter the children's emergency department area and are seen by a nurse for an initial assessment (triage).
The triage nurse will carry out a rapid assessment to see how urgently your child needs to be seen and if they require any immediate treatment (such as pain relief) or tests (such as X-rays). In some cases the triage nurse may discuss with the child's parent or guardian, whether the child's problems may be best managed by another healthcare professional, such as their GP or dentist.
The triage nurse will decide if you child can be seen by the GPs in our urgent care centre, if they have a minor injury and can be seen by our emergency nurse practitioner service or if they need to be seen by one of our emergency doctors. The triage nurse will inform the parents or guardian who they are waiting to see.
Waiting room
After the triage assessment is complete, children are either moved into the clinical area for closer observation, or moved into the children's waiting room.
The children's waiting area is separate from the adult waiting area. It  has selection of toys for younger children to play with and a TV and video console for older children. The play specialist will help, when possible, to provide suitable toys for patients and their siblings.

There is a  toilet and baby-change facility within the children's waiting area. We have a small supply of formula milk and nappies for infants available on request, although we cannot guarantee to provide specific brands and wherever possible parents should bring these with them to the department.
Clinical area
When it's time for your child to be seen, they are moved from the waiting room to an individual cubicle in the clinical area. All of the cubicles contain a trolley for the patient, seats for parents or guardians and an individual TV to help entertain and distract children while they are waiting.
When possible, the play specialist will help prepare children for any uncomfortable procedures e.g. having blood tests or having a plaster cast put on.
8am-8pm (weekdays and weekends)