Neonatal Intensive Care Unit (NICU)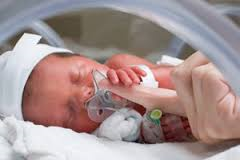 Main Address
Level 3 Kenwood Wing
Whittington Hospital
Magdala Avenue
London
N19 5NF
020 7288 5530
There is no change to the visiting rules on our children's wards (one consistent visitor only) or maternity (one consistent birthing partner who can also accompany mum to the post-natal ward).
Our neonatal intensive care unit (NICU) cares for inborn babies, in-utero and ex-utero transfers.

NICU has 23 cots including six intensive care cots, six high dependency cots and 11 special care cots.
We also have three mother and baby rooms, allowing for transitional care for well mothers and their growing pre-term infants. Deliveries are increasing, currently nearly 4000 annually with approximately 400 admissions to the NICU. Neonatal outpatient services incorporate antenatal counselling provided jointly with obstetricians, general and developmental neonatal follow up, and neonatal new patient referrals.
Our unit is part of the North Central and East London Neonatal Operational Delivery Network. We participate in joint perinatal working in clinical areas with obstetricians and midwives and shared research projects both within the network and nationally. One in nine babies born in the UK spends at least a few days in a neonatal unit.
Our maternity service incorporates a specialist neonatal intensive care unit (NICU) which cares for sick and premature babies born from 27 weeks onwards.
We care for babies in need of intensive and high dependency support born at our hospital and babies transferred to us from other local hospitals.
We are one of only a few facilities in the area with 24-hour specialist neonatal consultant cover. Seven neonatal consultants oversee the care of babies by our dedicated team of specialist nurses, physiotherapists, speech and language therapists, occupational therapists, dietitians, clinical psychologists, safeguarding specialists and pharmacists.
We work together as a team to ensure that every baby receives the best possible care, tailored to them. Our nursing team includes a practice educator and a clinical skills trainer who make sure our team is always up to date with the latest research and best practice ways of caring for sick and premature babies. The unit has 23 cots, including six intensive care cots, six high dependency cots and 11 special care cots with state-of-the-art equipment. There are comfortable mother-and-baby rooms, and mothers and their families are also offered counselling if they need it.

NICU team
Our clinical team includes neonatal consultants, specialist registrars and neonatal nurses, supported by dietitians, speech and language therapists, child psychotherapists and physiotherapists.

Lead nurse
Adesegun Oremule
We have well developed links with our community colleagues, nursing teams and paediatric doctors, providing seamless and coordinated care from hospital to home. Many families are also able to receive ongoing care with the therapists already known to them from the unit.
Contact
Ade Oremule on 020 7288 5530

Visiting times
Parents are welcome to visit at all times. For others, visiting times are 10am - 2pm and 4 - 7.30pm. We aim to observe quiet time between 2 - 4pm.

Children under the age of 16 (other than siblings of babies in the unit) are not allowed to visit.
Further Information
Levels of neonatal care
There are different levels of neonatal care within the NHS – levels 1, 2 and 3. Depending on the needs of your baby they will be admitted to the level that is most appropriate. You can find out more about the different levels of care on the
Bliss website
. Our unit is designated as level 2.
Neonatal network
Our neonatal intensive care unit is part of the North Central and East London Neonatal Operational Delivery Network, which is a group of hospitals who work together to provide many kinds of neonatal care to babies in the area.
Your baby may be transferred to us from another hospital if they require specialised neonatal care not available elsewhere.
If your baby requires highly specialised neonatal care not provided at our hospital, they can be easily and quickly transferred to another hospital for the care they need.
Bliss Baby Charter
We are one of the very first neonatal units to have completed the Bliss Baby Charter audit. The charter sets out best practice standards of care for neonatal units in the UK.
Babies born at The Whittington Hospital in need of neonatal care are admitted to our unit.

We also accept babies from 27 weeks' gestation onwards who require intensive or high-dependency care, transferred before or after birth from other neonatal units.

Babies may also be referred to us from level 3 units for ongoing care.