Ifor Ward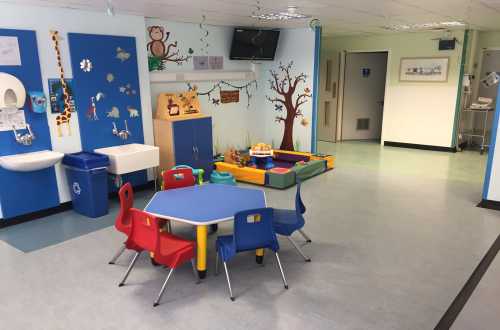 Main Address
4th floor, Great Northern Building
Whittington Hospital
Magdala Avenue
London
N19 5NF
020 7288 5442
Ifor ward is the general paediatric ward at The Whittington Hospital. It has 23 beds and we look after approximately 2,000 children per year who have medical and surgical conditions.
From December 2020 we have taken the difficult decision to stop all visitors to patients in adult wards and our emergency department. Visit this page to find out how you can keep in touch with your loved ones.

There is no change to the visiting rules on our children's wards (one consistent visitor only) or maternity (one consistent birthing partner who can also accompany mum to the post-natal ward).
Further Information
Opening hours
Parents and guardians are welcome at all times and sleeping facilities are provided for one parent. Siblings can visit at any time during the day.

All other relatives and visitors can attend Ifor ward between 8am – 8pm, with the permission of the parents.

Visitors under the age of 16 must be accompanied by an adult and must not be left on the ward unsupervised.

Anyone who has been in contact with an infectious disease, such as chicken pox, should not visit the ward.

Nursing staff
Your child will have an allocated nurse or healthcare assistant at all times, whose name can be found above your child's bed. Please feel that you can ask your nurse about any queries you may have.

Medical staff
Each patient will also have an allocated consultant, whose name can also be found above your child's bed. A member of the medical team will see you daily.

Food and drink
Three meals per day are provided for all patients. Please inform your nurse if child has any allergies or special dietary requirements.

Any family member staying overnight will be given a meal voucher.

Ifor ward actively promotes and supports breast feeding mothers, who will be offered a sandwich.

Free fruit and drinks are available on the ward.

Provisions
Please ensure your child has day and night clothes, and toiletries including a toothbrush, toothpaste, brush, soap and towel. Please also provide nappies.

Things to do
• Playroom with a team of qualified hospital play specialists
• Outdoor play area (weather permitting)
• Books
• Games
• TV and DVDs
• Sensory room
• Classroom (available 9.30am - 3.15pm during term-time)

Privacy and noise
As you and your child may in an open bay privacy and noise can be an issue, so we ask you to please respect others.

Security
Entry and exit to Ifor ward is via a buzzer system to ensure safety on the ward.

Contacts
Majella Travers
Matron
020 7288 3206

8am to 8pm
(with parents permission)
All admissions to Ifor ward are emergency admissions, usually from the emergency department. Admissions can also come from the paediatric outpatient clinic or the paediatric ambulatory care centre.