Patient and visitor information
How to get here
We have many community sites across Islington and Haringey, however the main hospital site is on Magdala Avenue, between Highgate and Archway. The hospital is accessible by underground to Archway Station, via car or via buses. For more information please
click here
Visiting and visiting times
We encourage visiting and the involvement of carers while you are in hospital. There are many ways in which visitors can help patient care, such as help at mealtimes, and we will be happy to support visitors to do so if that is your wish. There are, however, restrictions to visiting times to allow both rest and recovery, during mealtimes and for care and treatment to be carried out. The reason for the restricted visiting times is to allow you and other patients to have enough rest and recovery and privacy, and to allow doctors and nurses to provide care and treatment to all patients at all times.
Visiting hours are between 2.00pm and 8.00pm. Visiting outside these hours can sometimes be arranged with the ward manager and medical team involved with the your care providing this does not effect the care of other patients. Please check with the individual ward for specific times.
Read more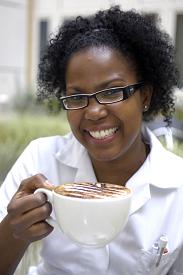 Finding somewhere to eat
Visitors are welcome to visit the hospitals Food Court situated on level 1 when arriving at the main entrance in Magdala Avenue. Our Food Court offers a range of hot and cold meals and snack items throughout the day. The Food Court is open daily between the hours of 7.00a.m. and 8.00p.m.
There is also a vending service within our emergency department waiting area and Labour ward location.
Whittington Health is a smokefree organisation
Since 4 July 2005 smoking has been banned for patients, clients, visitors and staff anywhere on the hospital site. This means a cleaner and healthier environment for everybody and is in line with government targets to put an end to smoking in hospitals throughout the country.
Read more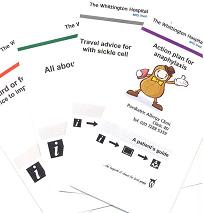 Patient leaflets
We are currently developing and reviewing all patient leaflets within the Trust to ensure that the information you receive is accurate and easy to understand. You can use the list to search for a leaflet relating to your procedure or condition. Not all of our leaflets are are currently available online however, if you speak to a member of staff regarding a leaflet which is not yet available online, they will be able to assist. Please remember that written information should only be used in conjunction with advice from your health care professional.
All of our patient information leaflets can be translated on request to another language, Braille, large print, easy read or audio tape. To have a leaflet translated please e-mail
whh-tr.patient-information@nhs.net
We want to hear your feedback on our leaflets, so we have developed a short survey. If you would like to offer your feedback
click here
it should only take you a few minutes to complete. Your views will help us improve the information we provide to you.
Read more
Emergency Department and Urgent Care Centre
Information for patients, including if you have a relative or friend in the emergency department, or if you feel you need medical attention. Please use the entrance on Highgate Hill if you are dropping someone off to go to the emergency department. Otherwise, please use the pick up and drop off point at the main entrance on Magdala Avenue.
We try to see all patients within four hours of arrival in the emergency department. However, waiting times can change suddenly if a seriously ill or severely injured person is brought in. When you arrive, a nurse will assess you and decide how urgent your case is. Cases are seen in order of urgency, so other people may come in after you but be seen before you.
Most of our patients attend The Whittington Hospital as outpatients. We see around 700 outpatients each day.
This section contains the information you may need when you visit The Whittington Hospital as an outpatient. If there is anything else you would like to know, please ask a member of staff when you arrive and they will be happy to help you.
PLEASE NOTE - The Whittington Hospital site of Whittington Health is a teaching hospital, so medical students may be present at your appointment for training purposes. Please speak to the nurse in charge if you have any objections. Your decision will not affect your care.
Before you arrive
Inpatient information
This section will provide you with the information you need before and during your hospital stay. Our staff are here to help you. If you have any questions about your treatment or stay, please do not hesitate to ask the nurse in charge of your ward and if required, he or she will contact the doctors who are treating you.
Before you arrive

Ward names and what they specialise in

Bridges rehabilitation unit is based at the Whittington Hospital. The ward has excellent therapy facilities, including a large gym area and a day room. It is an inpatient service for patients who require a further short period of rehabilitation following their stay in an acute hospital ward. Patients will receive specialist treatment at a level that cannot be given in the community or at home by their GP.
Coyle ward
is a 24 bedded trauma ward that provides care for patients with fractures and orthopaedic conditions. We also care for patients who have undergone general surgical and urology procedures. Tel: 020 7288 5446 click here for a patient information leaflet. (
ward leaflet)

Day treatment centre is a 40 bedded unit that specialises in the care of patients undergoing day surgery. We cover a wide range of operative and diagnostic procedures. Tel: 020 7288 3812/4 click here for a patient information leaflet. (ward leaflet)

Gynaecology Assessment Unit is a 14 bedded womenís only ward that mainly specialises in the care of women following gynaecological and breast surgery. The ward telephone number Tel: 020 7288 5533 click here for a patient information leaflet.
Mercers ward
is a 16 bedded ward. The ward provides care for patients admitted under the care of the haematologists, oncologists and gastroenterologists. Tel: 020 7288 5481 click here for a patient information leaflet. (
ward leaflet
)
Meyrick ward
is a 25 bedded ward that specialises in the care of older male patients. Meyrick ward is part of the Jeffrey Kelson unit specialising in care of the older person treating acute and chronic medical conditions. Tel: 020 7288 5447 click here for a patient information leaflet. (
ward leaflet
)
Mary Seacole south ward
has 20 beds. The ward provides care for all patients being admitted into the hospital from the emergency department who need extra treatment. Tel: 020 7288 5605 click here for a patient information leaflet. (
ward leaflet
)
Mary Seacole north ward
has 15 beds. The ward provides care for all patients being admitted into the hospital from the emergency department who need extra treatment. Tel: 020 7288 5501/4501 click here for a patient information leaflet. (
ward leaflet
)
Montuschi ward
is a 16 bedded ward that specialises in the care of patients with heart problems. The ward is divided in two categories: Coronary Care Unit (CCU), which is a four-bedded bay, and Montuschi, which is a 12-bedded bay. Coronary care unit beds are for patients that are admitted with heart attacks or conditions that are needed for close monitoring. Tel: 020 7288 5485 click here for a patient information leaflet. (
ward leaflet
)
Thorogood ward
is a 10 bedded ward that that specialises in elective orthopaedic surgery and spinal injuries. Tel: 020 7288 5445 click here for a patient information leaflet. (
ward leaflet
)