Children's Wellbeing Practitioner (CWP)
Who are we?
The Children's Wellbeing Practitioner (CWP) team are mental health workers trained in helping children, young people and their families manage their mental health difficulties. We aim to help build up emotional wellbeing and resilience in young people and their families.
What problems can we help with?
We can help with mild-moderate symptoms of: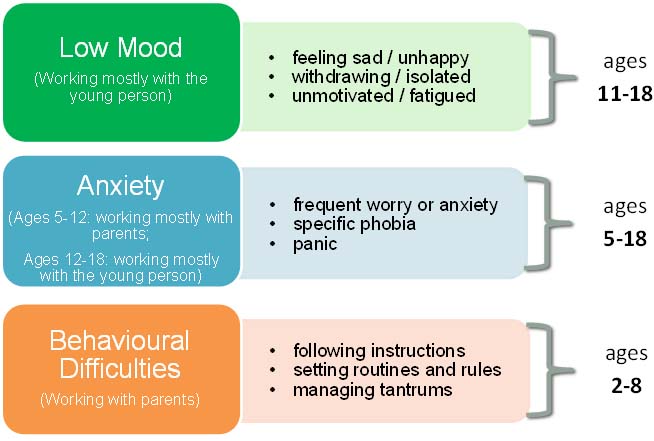 CWPs offer guided self-help strategies to help you manage these problems and stop them from developing into more severe difficulties. Throughout our sessions we will support you in learning strategies which you will then be able to take away with you and continue using after our sessions are over.
You could say that guided self-help is like learning to ride a bike – we'll be your stabilisers during our sessions together, helping you work towards riding the bike on your own once our sessions are over.
What do the sessions look like?
8 structured sessions
4 sessions face-to-face (1 hour each) and 4 sessions over the phone (30-45 minutes each)
Sessions may take place at CAMHS, school or other settings (we will discuss options with you)
The CWP will explore with you how to understand your difficulties
They will help you to set goals which you will then work towards together
There is also between-session practice to do when learning new strategies

How to make a referral
If this sounds like the right service for you or your child, please call us on 020 3316 1824 or email us at whh-tr.icamhs@nhs.net and explain that you would like to make a referral to the CWP team.