Ambulatory Care Centre (Adults)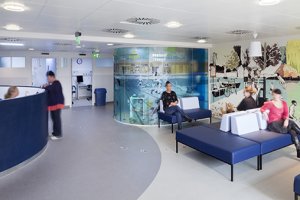 Main Address
Ambulatory Care Centre
Whittington Hospital - Level 2
Magdala Avenue
London
N19 5NF
For general enquiries: 02072885940 - For referrals from healthcare professionals only see below
Ambulatory care is same day emergency care.
Our ambulatory care centre offers easy access to diagnostic tests, hospital consultants and specialist staff in one place. It is a way of providing safe care designed around the needs of the patients. The aim is to avoid unnecessary hospital admissions.
The adult service is consultant led with a multi-disciplinary team of more than 20 staff including medical and emergency physicians, community matrons, GPs, surgeons and a full range of hospital based specialities working together in the acute care of patients.
The service is not pathway or condition led to ensure that all patients can be considered. All patients must be referred and clinically accepted by the ambulatory care team.
Objectives
The service aims to prevent unnecessary hospital admissions and provide better experience for our patients.
Client Groups
The centre is focussed on providing the right care for our patients, in the right place.
We treat:
Adults needing emergency care who are referred by their GP
Patients redirected from our emergency department
Patients who have been in hospital, providing support to go home as part of our enhanced recovery programme
This is a day treatment service so patients may be required to come back the following day.
General Enquiries
020 7288 5940
Lead manager
The centre is now open longer hours, 7 days a week:
Monday to Friday

8.00am – 10.00pm

Weekends and bank holidays
9.00am – 8.00pm

We accept referrals from GPs and Whittington Health hospital staff.

External staff:

To refer to the service, please call 07775 117 679 to speak to the ambulatory care consultant. Out of hours please call the hospital switchboard on 020 7272 3070 and ask to speak to the ambulatory care consultant, you will speak to the duty medical registrar. If accepted we will usually ask you to send the patient on the day to the ambulatory care centre. If clinically appropriate we may ask the patient to attend the next day.

Ambulatory Care
Click play above to start the video