Managing your Outpatient Appointments Online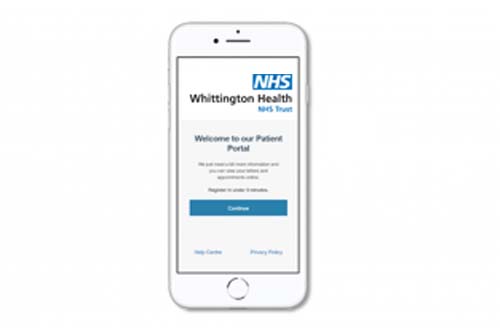 Welcome to the Whittington Health patient portal which enables you to view your outpatient and virtual appointment details and letters online in one place, anytime and anywhere. The system we use is called Zesty.
What can I do on the Whittington Patient Portal?
Once registered for access to Zesty, you will be able to:
See all of your new out-patient appointments in date order giving you greater oversight
View your appointment letters and download these
Set your communications preferences to opt-out of paper appointment letters moving forward should you wish to
Add forthcoming appointments to your own digital calendar at the click of one button, eg Google or Outlook
Find quick directions to our hospitals and community sites
Over the coming months we will also be developing the portal to provide more features - including being able to cancel or reschedule your appointments. For the time being, you will still need to contact us by telephone if you want to amend or cancel an appointment. However, once registered on the portal you will be able to access your appointment letters on the portal where you will find the contact number you need - where ever you are.
Want to register?
To register and use the Whittington Health Patient Portal, you need to:
be 18 or over
have a new or upcoming out-patient appointment scheduled with us
have a UK mobile phone number, which is registered on our hospital system (please make sure we have the correct number for you)
have a personal email address
When you are scheduled a new appointment, we will automatically send you a text message inviting you to join the patient portal – please click on the secure link, and follow the instructions as prompted. You can watch our video below for more information on how to register.
If you have an upcoming appointment, you can still register by clicking here.
Once you've registered all you need to access the portal is an internet connection and a suitable electronic device such as your home computer, tablet or smart phone, eg Apple or Android.
How does it work?
When you have a new appointment booked in our hospital system, for example a first time appointment or a follow-up appointment, you will be sent a text message inviting you to sign up to the portal.
Registering is quick, easy and secure – it should take no more than three minutes to sign up.
Do I have a choice?
Managing your outpatient or virtual appointments online using the Whittington Health Patient Portal is optional, and patient care will not be impacted if you choose not to use it. If you choose to register, you will have the option to receive your appointment information by post or via the portal. Unless you choose to go paperless, you will continue to receive paper copies of your appointment letters.
Is my Data Safe?
Yes, your data will be kept safe and secure within the system. The system is simple to use but utilises the latest technology to ensure that our patient's personal details are kept secure. The system is already in use by a number of other NHS organisations nationally.
Using this system also prevents your personal medical appointment details being lost or intercepted in the postal system. Never give anyone your username and password. Our staff will never ask you for this.